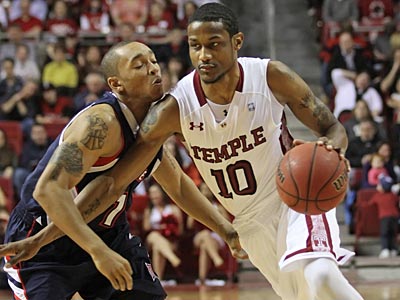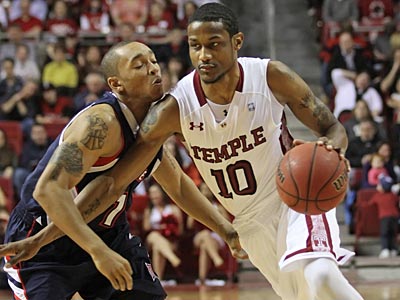 The Temple Owls (21-5, 10-2) defeated the Duquesne Dukes (15-11, 6-6) 78-59 for its 10th consecutive victory.  Temple was led by Juan Fernandez and Khalif Wyatt. The two combined for 44 of Temple's 78 points. Wyatt led all scorers with 24 points, while Fernandez earned his 400th career assist to go along with 20 points.
The Duke's opened up to an early 11-6 lead over the Owls thanks in part to a hot start by senior guard B.J. Monteiro, who scored 7 of the Duke's first 11 points.   Temple opened up 0 for 5 from three point land, but quickly recovered by making its next four three-point attempts including a Juan Fernandez three pointer at the 9:51 mark of the first half which gave the Owls a 17-15 lead. The Owls never looked back.
The Duke's managed to stay within 10 points of the Owls for a large part of the second half, but the Temple back-court was too much for the Duke's to handle.  Temple shot 6 for 8 from beyond the three-point line in the second half in route to its 19 point win.
Losses from both 22nd ranked Virginia and 23rd ranked Mississippi State on Tuesday should knock at least one of the two schools out the 'Top 25' and allow Temple to become ranked for the first time this season.  The Virginia loss was crucial for the Owls because Virginia is ranked among the Top 25 in both the coaches poll and the AP poll.