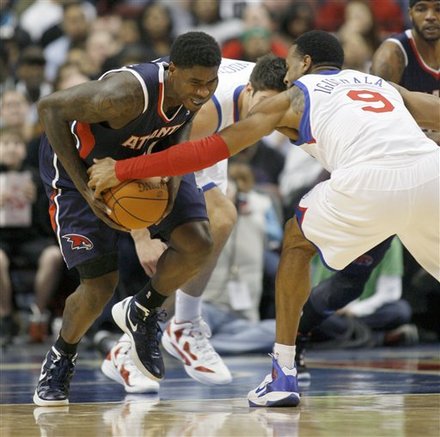 It was a perfect Sunday afternoon sitting on the couch watching basketball with my three year old daughter. She was reacting to every movement during the game. It was funny as hell. The game was Knicks/Mavs. I was waiting for the Sixers to come on.

I am sitting there watching mister "Linsanity" himself make plays all over the place and some guy named Steve Novak looking like "Larry Legend". The best part is that this dude hits his 3rd or 4th three in a row and then gives the MSG crowd the Aaron Rodgers discount double check. Really bro? Nice.

Did anyone else see the star treatment Lin is getting already? That flagrant foul call in the first half against Lin might have been the softest flagrant foul that I have ever seen. That being said, Lin continues to put up numbers and W's, which is the most important stat.

The Knicks are now 8-1 since Lin was inserted into the starting lineup. Listen, I hate the Knicks and all most everything New York. It is my Philly complex. I can not help it. You guys understand that. I will tell you one thing though this is kind of fun to watch the Knicks do this with out Melo in the lineup.

I am by far the biggest Melo hater I know. I will admit that. He is a great scorer but just flat out destroys a team's offensive flow with his entire one-on-one play. There is a time for one-on-one play, but not the whole game. The one thing that popped into my mind watching the game was, "should the Sixers be nervous now?"

They still have a 4-game lead in the division over Boston and NY. The Sixers have hit a wall of late. We all knew that this part of the schedule was where we where going to find out what this team was made of. There are now 5-6 in this tough month of February after losing on what might been the worst call I have ever seen to the Timberwolves.

Seriously, this has been the worst officiating this year that I have ever seen by far. You let the players decided the game not the refs. Idiot! Ok, I am alright now. What we found that out this Sixers team is solid. They will give you max effort every night on the defensive end no matter what kind of offensive night they are having. The one thing that still hurts them is when they have to play a half-court set on a consistent basis. They can do it in small samples.

Their MO is run, run and run some more. They have guys that used to be good half-court players, like Elton Brand. They have guys that might turn out to be good half-court players in Holiday, Turner and Meeks. Lou is a nice half-court player when he is on. They just do not do it consistently.

The one guy that helped them in the half-court early on was Spencer Hawes. Hawes is being missed a lot by this team and it seems like he won't be around anytime soon. He will see a specialist soon for his Achilles after wearing a boot for a couple of weeks.

The Sixers used him as the filter in the high-post with running screens and back door cuts off him for their offense in the early going. They took advantage of Hawes passing skills. The Sixers are 12-2 when he plays and 8-9 when he does not. Who knew that Hawes would be that important to this team? I sure as hell did not. He is not he cure all, but he would help.

So can the Knicks or the Celtics catch the Sixers for the Atlantic? They could. The Knicks have a ton of scoring power but I still don't think they can guard anyone. The Sixers can score and defend with the Celtics. The Celtics have the experience over them and, if they need a bucket, they can go to Pierce. The Sixers seem like they are not going to do any major trade this season to help them out.

They are going to ride out this roster to see how far it takes them. I am okay with that. Then make decisions in the off-season. I think the Sixers can hold on to the division. I am banking on the Celtic's age, Melo screwing up the chemistry that Lin the Knicks have now and the Sixers hot start. Hopefully I will not be eating my words. By the way, the Sixers are now 2-8 in games decided by 7 points or less.