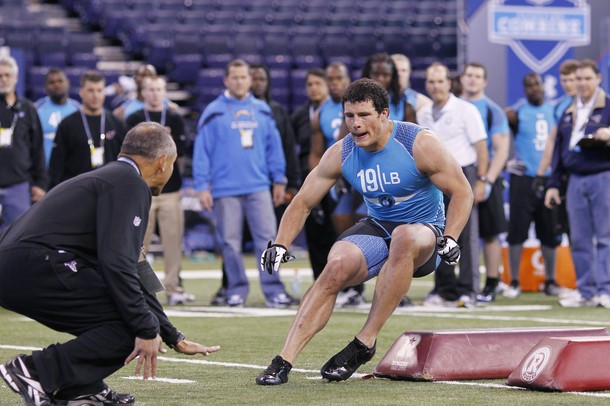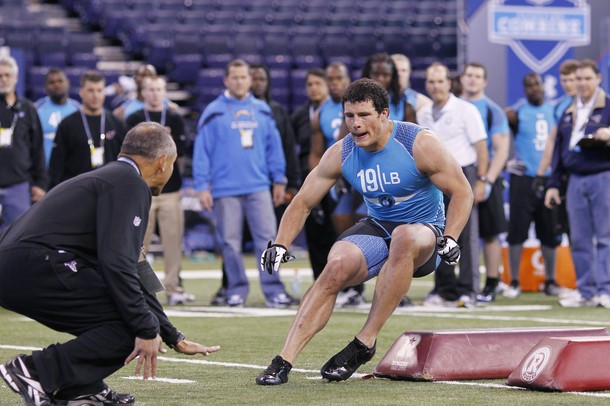 Everyone was waiting to see what Boston College middle linebacker prospect Luke Kuechly would run in the forty yard dash at the NFL Combine in Indianapolis.  He answered any questions about his speed by running a 4.50 in the forty yard dash on his first attempt.
Unfortunately for the Eagles, he might have run so fast that he'll wind up getting drafted well ahead of the 15 spot.  Right now, I think the Birds will need to move up to get him.
The Birds may have been helped to get a shot at the youngster because he ran a 4.78 in his second forty-yard dash time.  The much slower second forty-yard dash could chase some teams away from him.
The great disparity in the forty times led some of the scouts to ask Kuechly to run one last forty-yard dash and he ran a 4.59 to again eliminate questions about his speed.
In the standing broad jump, Kuechly jumped 10'3″, which is very impressive.  Next up, he had a 38 inch vertical jump.  It shows tremendous explosiveness.
Kuechly weighed in at 241 pounds.
Alabama's middle linebacker Dont'a Hightower ran a 4.62 at 260 pounds.
North Carolina's Zach Brown ran a blazing 4.45 even though he seemed to pull up during the sprint.
Vontaze Burfict hurt himself during his first forty-yard dash by running a 4.93.  Burfict is a major question mark to a lot of the scouts.
Ryan Baker ran a 4.74.
Florida State's Nigel Bradham ran a 4.53