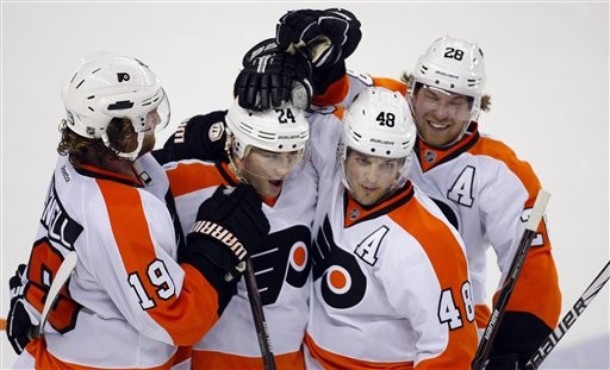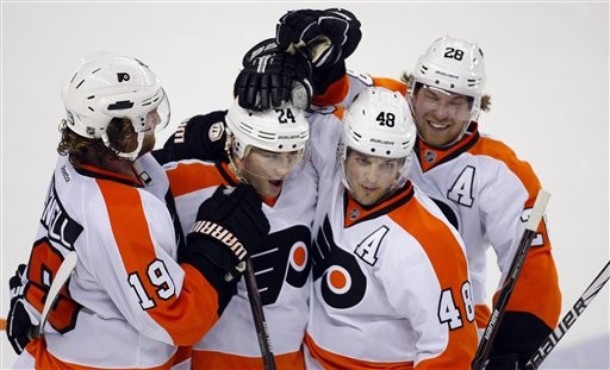 The NHL trade deadline concluded at 3 PM this afternoon. Flyers general manager Paul Holmgren, fielding calls and inquiring about players from other teams, decided to stand pat and not make any additional trades beyond those made nearly two weeks ago for defensemen Nicklas Grossman and Pavel Kubina.
The general consensus is that he made the right decision.
Dan Dreger of TSN reported this morning that the San Jose Sharks had contacted the Flyers about James van Riemsdyk. He suggested that they were offering goaltender Antti Niemi, whose 0.911 save percentage isn't much better than Ilya Bryzgalov's. Tim Panaccio of CSNPhilly later reported that the Flyers refused to consider any offer unless forward Logan Couture was included, to which the Sharks balked.
Later on in the afternoon, rumors circulated that the Flyers were inquiring about defensive forward Paul Gaustad from the Buffalo Sabres. Gaustad isn't much of a goal scorer, but can kill penalties and has a good face-off record. I wasn't as big a fan of Gaustad like many fans I spoke with earlier were, but in the end, the asking price was a first round draft pick that Holmgren refused to part with (for a change).
Gaustad (along with the Sabres' fourth round pick) was eventually acquired by the Nashville Predators for their first round draft pick.
Nashville arguably made the biggest moves for the postseason, adding forward Andrei Kostitsyn from the Montreal Canadiens for a second round draft pick in addition to Gaustad and defenseman Hal Gill.  Although defenseman Ryan Suter could still become an unrestricted free agent on July 1, it's believed that Predators general manager Dave Poile as well as the organization in general are trying to show both him and Shea Weber that they are dedicated to winning a Stanley Cup, and not just balancing a budget.
A number of teams stood pat along with the Flyers, including the Pittsburgh Penguins and Washington Capitals. Many pundits seemed surprised that the Capitals made no trades whatsoever, as they have been a bubble team for quite some team and barely reflect the juggernaut they were just two seasons ago.
Finally, forward Rick Nash, subject of rampant trade rumors for weeks, will remain with the Columbus Blue Jackets for at least the remainder of the season. General manager Scott Howson refused to drop his asking price and neither the Sharks, Flyers, Toronto Maple Leafs or New York Rangers were willing to budge.
Perhaps the biggest surprise about the Nash situation is that Howson went on record after the deadline passed that Nash had, in fact, requested a trade weeks ago.  Basically, Howson is telling Blue Jackets fans that Nash wants out.
While that shouldn't come as a "shock," Howson is now effectively making himself to look like the victim in this entire mess. How Nash can continue to be the face of the franchise is beyond me; imagine if Holmgren said last year that Mike Richards had requested a trade? He would have been run out of this town faster than you could say "dry island."
In the end, Holmgren added better-than-average defensemen without losing roster players. He didn't make any outrageous trades or mortgage the immediate future, sending only four mid-round draft picks and retaining the ever valuable first round draft pick.
Tomorrow night's game against the San Jose Sharks marks the 62nd game of the season, meaning the final quarter of the season is about to begin.
It is now up to coach Peter Laviolette and the team assembled to resolve internally the few items that have been weak points of late:
Find consistency with their goaltending, be it Bryzgalov or Sergei Bobrovsky
Improve the effectiveness of the penalty kill (now ranked 23rd in the NHL)
Determine the forward line combinations that best produce consistent offense
None of these tasks will be easy, but they will be necessary if the Flyers hope to have a long post-season now that the final roster is complete.
For the latest Flyers news and updates, you can follow me on twitter (@JoshJanet).