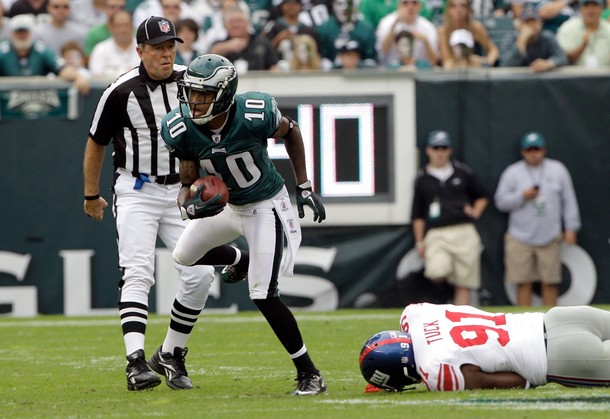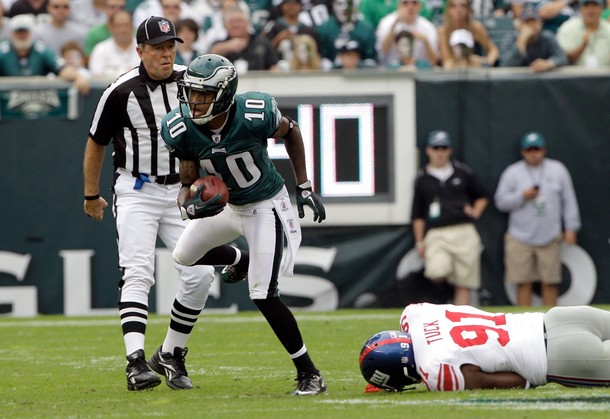 The Eagles have several areas that need to be addressed before the start of next season. Most of those areas lie on the defensive side of the ball. The linebacker position and a secondary that doesn't seem to enjoy contact, which may be a bit crowded at the corner position.
Granted the Eagles defense seemed to gel together towards the end of the season and will have a full offseason to work together with 2nd year defensive coordinator Juan Castillo. They could have a great defensive unit if they take care of some holes, specifically the MLB position.  In the meantime, there is one lingering decision Eagles fans are waiting for regarding the offense. DeSean Jackson; Will he or won't he be an Eagle next year?
The Birds are expected to franchise DeSean Jackson sometime in the next couple of weeks at around $9.4 for 2012. What happens next is anyone's guess. If the Eagles do put the franchise tag on Jackson, they can keep him or trade him. Instead of putting the franchise tag on him, they could come up with a contract extension agreement or simply cut ties with the diminutive receiver all together and let him walk. I highly doubt the Eagles would be willing to simply let a player like DJax go without anything in return so let's look at the other options:
Give him a new contract:
The man wants to get paid, everyone knows that. The problem is, what is he worth? We know Jackson and his agent, Drew Rosenhaus, have made it clear they believe he is one of the top wide receivers in the league and should have one of the top wide receiver salaries. I could see Jackson having a big year after getting paid and I know his speed strikes fear into any defense but I just don't know if I see him as one of the TOP wideouts in the league.
He is a small guy and one big hit could end his season in a heartbeat, not to mention he already suffered a concussion last season.  Desean held out last year when he didn't receive a big contract, only to return several days later. Chris Johnson from the Titans had better luck by not coming back from his holdout until he became the highest paid RB in the league.
Unfortunately for the Titans, Johnson did not have a highest paid kind of season last year. Matt Forte went the opposite direction of Johnson and Jackson, having an outstanding year while not making his contract an issue, although he had a season ending injury as well. It's impossible to predict what could happen to a player as far as injury in concerned. On any given day, whether during practice or a game something could go wrong and a team could lose their multi-million dollar investment in the blink of an eye. This is why coming to a happy medium with Desean's contract could be tricky.
Franchise tag and trade him
There may not be many players with the speed of Jackson but that does not mean there are no options to replace him either. The Chargers could franchise their star wideout, Vincent Jackson, but with the rocky relationship between the player and the team over the past few years, I don't see it happening. A guy with his size could be a big improvement for the Eagles who have lacked a tall red zone receiver for years. With Vick's arm and Jackson's ability to go up and bring the ball down, the combo could be dangerous.
A couple other possibilities at the WR position would be Marques Colston from the Saints who pulled in over 1,000 yards last season with 8 TD's or speedster Mike Wallace from the Steelers who had similar numbers to Colston with 1193 yards and 8 TD's last season.
Franchise tag and keep him
Jackson acknowledged at the end of the Eagles disappointing 8-8 season that his contract issues affected him this past season. He also said that he would be fine with getting the franchise tag if that's the direction the Eagles decided to go. Although I believe Jackson would be content with making around $9.4 million this year, it would be a risk for the Eagles to have him out on the field if he's not happy with his contract again.
I think the Eagles would be better off with a guy that has less talent but more heart than a guy that has talent but isn't willing to leave it all out on the field. Just as the high risk, there could be high reward in having Jackson back this season. The amount he makes from the franchise tag could be enough for him to be happy and at the same time want to prove he deserves that big contract down the road.
There is also nothing keeping the Eagles from drafting a big wide receiver like an Alshon Jeffery out of South Carolina, if they can address their LB needs in free agency. Plaxico Burress has also made it clear that he wants to join the Eagles and would be a nice redzone receiver.
The Eagles are facing some tough decisions on the topic of what to do with Jackson being just one of them. What happens with players from other teams regarding the franchise trade or contract negotiations could certainly impact the Eagles decision on Desean to a certain degree. Philadelphia will know the fate of their star wide receiver any day now, but in the meantime I think most fans will agree, STAY AWAY FROM RANDY MOSS!