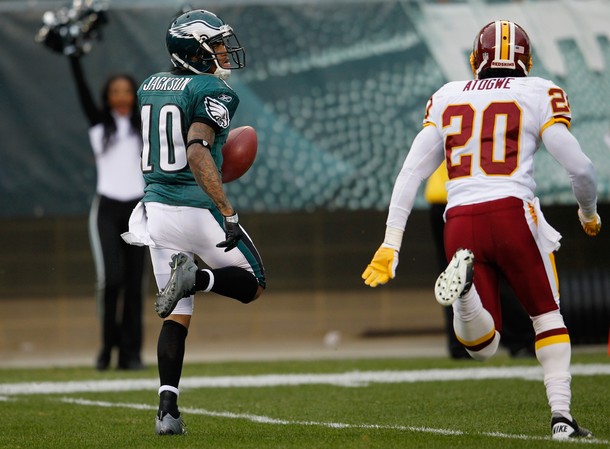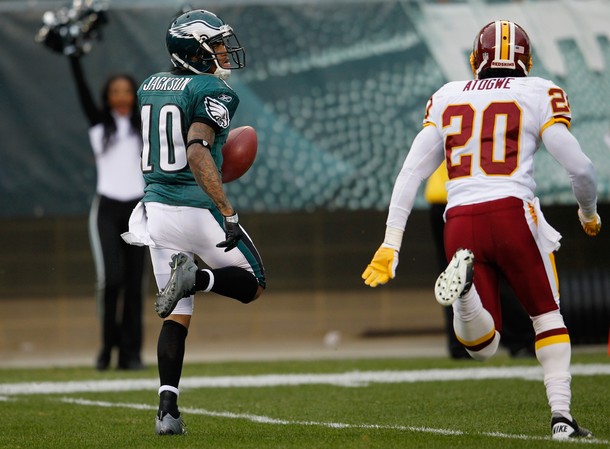 There have been a number of reports that the Eagles are entertaining offers from other teams for the services of wide receiver DeSean Jackson.   The names of teams who have made offers hasn't been made public, but I see about four or five teams, who are in desperate need of a deep threat and would be interested in Jackson.
#1) New England Patriots (Have 2 1st Round Picks (#27 & #31)
#2) San Francisco 49ers (Would be the perfect fit with play-action and a strong running game)
#3) Washington Redskins (A Division opponent,Redskins have bad taste about McNabb)
#4) St. Louis Rams (Sam Bradford has no legitimate deep threat)
#5) Arizona Cardinals (Having D-Jax open the field up more for Fitzgerald is a scary proposition but Cardinals probably still sulking about the deal for Kevin Kolb)
#6) Jacksonville Jaguars (New Ownership, needs fans in the seats and a deep threat for quarterback Blaine Gabbert)
#7) San Diego Chargers (Depending if the resign Vincent Jackson, if not, could be in the market by draft weekend)
Bottom line, since free-agency occurs before the draft, we will know in a couple of weeks on what teams will really need wide receivers.. There are lots of good wide receivers potentially that will be on the open market in free-agency, but how many of them stay with their current teams or move on will determine who needs what/who has salary cap space and who will concentrate by using the draft to upgrade their wide receiver positions.
I really don't believe there will be a real strong market for DeSean Jackson personally and I also don't think the Eagles will franchise him and take a chance of getting stuck on paying him $9.4 million this season. They will try to work out a deal by March 5th (franchise-tag deadline) If not, then the Eagles will address the wide receiver position between free-agency and the draft.