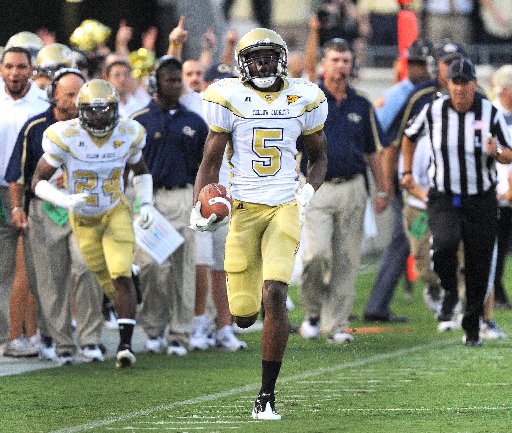 With former Pro Bowl wide receiver DeSean Jackson on the trade block and everything on the line for Andy Reid and Michael Vick, the Eagles will be looking near and wide from wide receiver speed and talent.  There was a quite bit of it on display yesterday in Indianapolis.
The top rated wide receiver in the draft, Justin Blackmon, and another highly regarded wide out Alshon Jeffery didn't run nor did they do any drills at the NFL Combine this weekend.
Jeffery didn't work out but he still helped himself by weighing in at a lean 216 pounds.  He had been rumored to be up to 240 pounds after the season.
Michael Floyd – Notre Dame – Height: 6'3″ – Weight: 220 lbs – 40 yard: 4.47 – 10 yard: 1.56 – Vertical: 36.5″ – Broad Jump: 10'2″
Floyd was very productive in college, but he needed to run a good forty to convince skeptics that he would be a legitimate deep threat on the NFL level.  His forty time was 4.47 which didn't break any records but it was fast enough to get deep on the pro level.  Floyd is expected to go in the first round.
Devon Wylie – Fresno – Slot WR – Height: 5'9″ – Weight: 187 lbs – 40 yard: 4.39 – Vertical: 39″ – Broad Jump: 9'6″
Wylie may be the best slot receiver in the draft.  He's as quick as a cat and much faster than the guy a lot of people are comparing him to, Wes Welker.  He also returns punts and has to be on the Eagles radar.
Stephen Hill – Georgia Tech – Height: 6'4″ – Weight: 215 lbs – 40 yard: 4.36 – 10 yard: 1.20(!) – Vertical: 39.5″ – Broad Jump: 11'1″
After the performances of the probable first two picks in the draft, quarterbacks Andrew Luck and Robert Griffin III, the talk of the weekend was Hill.  Although he only caught 28 passes because of the run-oriented offense they had at Georgia Tech, he excelled in every single drill, especially running routes and catching the football.
Tommy Streeter – Miami – Height: 6'5″ – Weight: 219 lbs – 40 yard: 4.40 – Vertical: 33″ – Broad Jump: 10'5″
Streeter also has a great combination of size and speed.  Although he showed tremendous speed in the 40, Hill didn't show that speed at Miami when he played.  One of the reasons might have been because he was learning a new system.
Chris Owusu – Stanford – Height: 6'0 – Weight: 196 lbs – 40 yard: 4.36 – Vertical: 40.5″ – Broad Jump: 10'9″
Owusu has a tremendous upside, but he had a bunch of concussions at Stanford.  He's got decent size and big time deep speed.  The concussions will scare a lot of people away until the latter rounds.
Kendall Wright  – Baylor – Height: 5'1/2″ – Weight: 196lbs – 40 yard: 4.61 – Vertical: 38.5″ – Broad Jump: 10'1″
Wright really hurt himself with a poor 40 yard dash time.  He was able to get deep a great deal for Robert Griffin III, but his 4.61 will scare some teams away.  He'll get the chance to save himself at his Pro Day.
Joe Adams – Arkansas – Height: 5'11″ – Weight: 179 lbs – 40 yard: 4.55 – Vertical: 33″ – Broad Jump: 10'3″
Adams was supposed to be a candidate to replace DeSean Jackson, but that's not likely to happen after he ran a 4.55 in the forty yard dash.   He's explosive and quick, but his forty was disappointing.