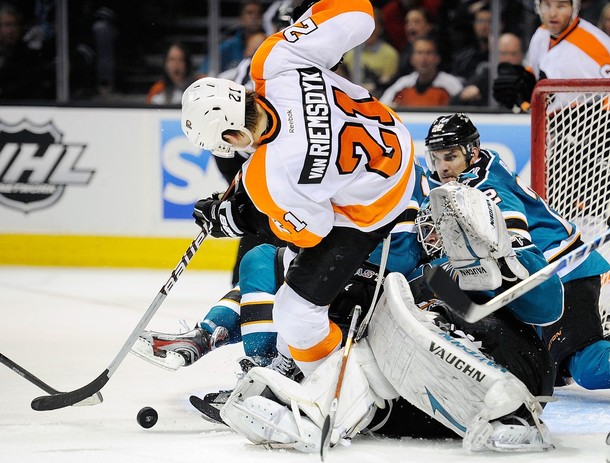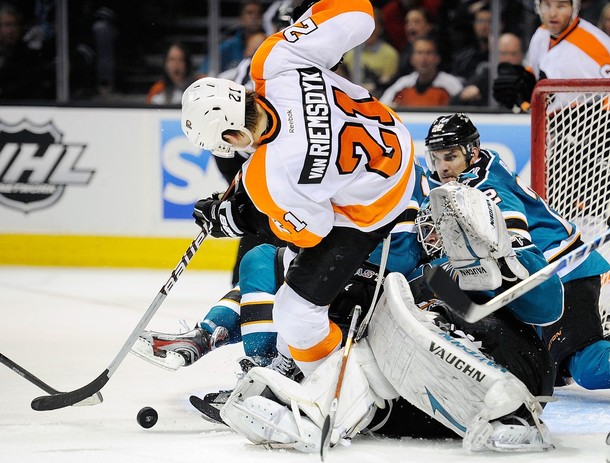 The Flyers' offense laid a dud late Tuesday night and, for the second time on their four game western swing, the team was shut out, this time 1-0 by a reeling Sharks team at the Shark Tank in San Jose.
While the offensive effort was certainly discouraging, the new look defensive corps was solid and beleaguered netminder Ilya Bryzgalov turned in a superb effort. Those facts aside, the game will be remembered for one play: San Jose defenseman Marc-Eduard Vlasic's impermissible, but somehow not penalized, hit from behind on Flyers center Danny Briere.
At 14:55 of the closing period, the teams were engaged in a battle for the puck along San Jose's defensive corner-boards when the puck came to Briere, who was facing said boards. Vlasic came from behind Briere, crosschecked him and sent the Flyer forward's head crunching into the boards awkwardly like an accordion.
The hit was clearly a penalty, likely even a five minute major, but for whatever preposterous reason, the call was never made and play was allowed to continue as if nothing had ever happened with the Sharks enjoying an offensive flurry while Briere lay prone on all fours, struggling to get up. Briere was able to return to play a few shifts later.
On the Comcast Sportsnet telecast, Bill Clement and Steve Coates went into a righteous uproar over how the call wasn't made and how the hit was suspension worthy. On his twitter page, Inquirer Flyers beat reporter Sam Carchidi called it "the most incredible non-call of the season."
Is Vlasic a dirty player? No. Research shows that he has never been suspended in his almost six-year NHL career.
Did the officials swallow their whistles during crunch time? Maybe. We'll likely never know.
Could a call have changed the outcome of the game? Absolutely. The Flyers' talented power play could have upward of five minutes to do some damage. But that's a what if. What ifs mean nothing in the long run.
The real issue here is the fact that the clearly deliberate penalty was not called.
For examples of these kinds of hits, click here, here, and here. In each of these cases, a major penalty was assessed. What is so different between these cheap hits and the one Briere took Tuesday night in San Jose? Not much, except for the fact that no penalty of any kind was assessed.
The kind of horrible officiating we saw near the end of Tuesday's game contradicts any sort of effort the NHL has made to clean up the game. Why make all these rules to protect the players, and, in turn, the product, if they aren't going to be enforced consistently? Perhaps the worst part is that it sends a message to younger players and kids that they could get away with these dangerous hits. That's not a good image to portray.
Are we to believe that this is the same league that that considers itself progressive in the area of hits to the head and concussion and head injury prevention? With unpredictable officiating seeping throughout the league, how can we? Do these inconsistent officials really work for the same league that instituted Rule 48, makes its players go to the "quiet room" after a hit to the noggin and put curved glass in each arena for further protection?
What good are all of those things if the league's referees negate the league's efforts on nightly basis by blowing clear, plain-as-day calls? Not much.
Who cares if the play occurred in the waning minutes of a one-goal game? Does that fact trump a player's health and well-being? The latter was a rhetorical question.
These kind of reckless hits are the kinds that derail careers. Ask Patrice Bergeron. It's only a matter of time before a career ends from something like this.
So what can be done to rectify the situation from Tuesday night?
Nothing. The game is over and the NHL can't possibly do anything to go back in time to make things different. But supplemental discipline should be handed down to the visibly guilty party.
Vlasic should be suspended at least two games. As mentioned above, Vlasic has no history of suspension and shouldn't be given a crazy amount that a crazy-man such as Dan Carcillo should be given for a similar offense.
The league should also fine the assigned referee's, Mike Leggo and Marc Joannette, for missing such an obvious call. This would send a message to them and the league's other referees that this irresponsible officiating won't be tolerated. Their lack of response hurts the game's reputation and they have to realize that.
The puck is in your defensive end, NHL. It's time to show that you are serious.