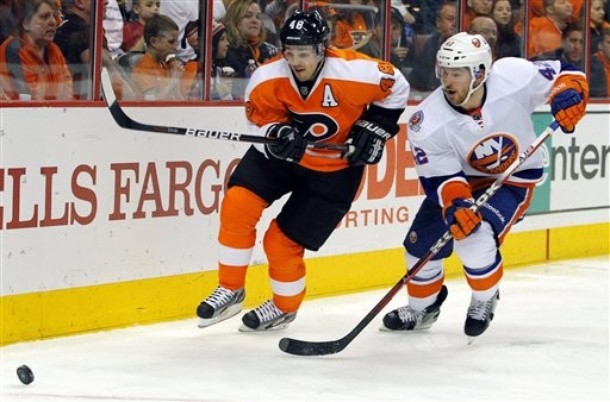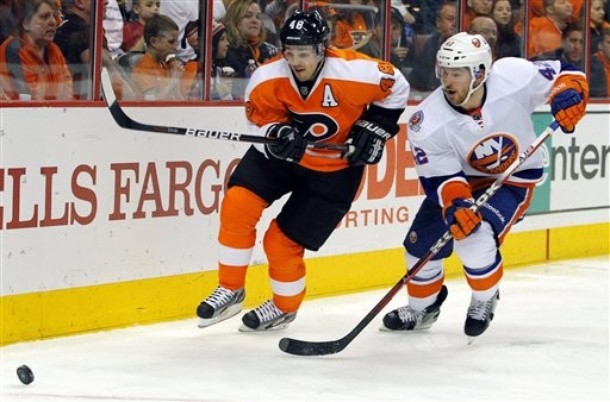 Peter Laviolette has played musical chairs throughout the 2011-12 NHL season with his forwards, changing up all four lines as he looked to find the combinations that brought out the best in each player.
Scott Hartnell, after struggling in the first seven games of the season, quickly developed chemistry with Claude Giroux and Jaromir Jagr. That line hasn't been effective every game but has been the most consistently dangerous.
Sixty three games into the season and Danny Briere has yet to find "his" wingers.
Briere is on pace for the lowest points totals of his career since 2002, assuming you ignore the 2009-10 season when he was sidelined with a groin injury.  He hasn't scored a goal in the last eighteen games, or since his hat trick against the Ottawa Senators (in which he also fought with pest Kyle Turris).
When Laviolette chose to start Briere on the fourth line in Tuesday night's game against the San Jose Sharks, it bewildered me at first. Shouldn't he be trying to figure out who Danny's wingers are before the regular season ends, instead of letting him toil with the rookies and role players?
I initially tossed aside the notion from others that it was time for a "wake-up call," but taking the time to sleep on it myself, they were right.
Briere's struggles have nothing to do with his linemates. Laviolette has tried almost everyone- Jagr, Jake Voracek, Matt Read, James van Riemsdyk, Brayden Schenn, Wayne Simmonds, Max Talbot, etc. Laviolette even had Briere centering Simmonds and Schenn when the two were "on fire" last month, and yet Briere remained pointless.
Part of the problem is his shooting percentage. Briere has never dipped below 13%  since 2001, but is currently sitting at just 9%, good enough for 10th on the team among forwards with 20 games played.  He is being given every advantage by Laviolette with the 4th most offensive zone starts and 4th most powerplay time on the team, but is still not seeing any results.
Is he coping with internal struggles again? Is there more going on beneath the surface that is affecting his game? Nobody knows but Danny.
Briere was arguably one of the best players for the Flyers in the 2009-10 postseason, when he tallied 12 goals and 30 points in 23 games. There's every reason to "hope" that he can tap into whatever drives him at that time and help push the team far beyond the first round of the playoffs.
If he fails to get going, though, the Flyers run the risk of working with only one or two effective lines. The less offense that they have to throw at their opponents, the easier it will be for their opponents to shut them down and, unfortunately, the Flyers don't currently have the defense or the goaltending to make the difference.
If you look at the handful of most recent games in which Briere scored, you'll see two common names with the assists- Voracek and Simmonds. They're arguably the two best players at recreating the "Hartnell and Leino" wingers that brought #48 success last season (well, other than Hartnell).
Those two are my choice for who Briere should be sticking with for the remainder of the regular season, with a third line of Read-Schenn-Talbot and a fourth line of Wellwood-Couturier-Rinaldo. Laviolette eventually has to make a decision and run – or stumble- with it.
For the latest Flyers news and updates, you can follow me on twitter (@JoshJanet).