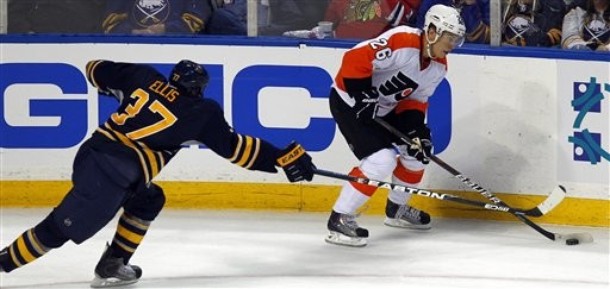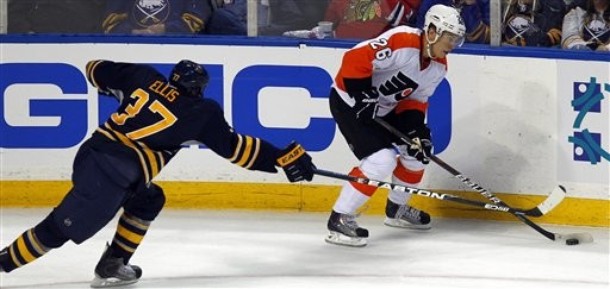 The Flyers announced earlier this afternoon that they have recalled forward Eric Wellwood from the Adirondack Phantoms.  He was sent down on Monday so that he could be available for the Phantoms come the AHL playoffs, but with the recent injury to James van Riemsdyk, the Flyers apparently felt he would be better suited up here.
At the very least, he's a quicker, more talented option than Jody Shelley.
Wellwood scored his first NHL goal in the Saturday afternoon loss to the Pittsburgh Penguins a few weeks ago and had just one shot on goal in the 9:37 of ice time in the Flyers' 2-0 loss to the Edmonton Oilers.
Wellwood has been with the Flyers for only spurts at a time in the last two seasons, and filling in for JVR for the next for weeks should provide the Flyers with a good look for the future.
In addition to Wellwood, Tim McManus of the Post Star reported tonight that defenseman Erik Gustafsson has been recalled as well. "I should say, Erik Gustafsson left here to meet Flyers. Whether you want to officially call that a recall or not is semantics, I guess" McManus tweeted.
He has not been officially recalled, and it raises questions as to whether there is an injury that has not been reported yet. Many suspect that Kimmo Timonen has been playing hurt, but the Flyers still have Andreas Lilja with the Flyers if they need a sixth defenseman.
The Flyers take on the Washington Capitals tomorrow night at the Verizon Center.
For the latest Flyers news and updates, you can follow me on twitter (@JoshJanet).