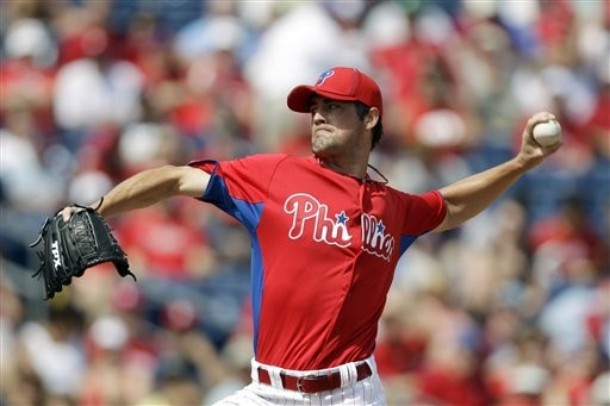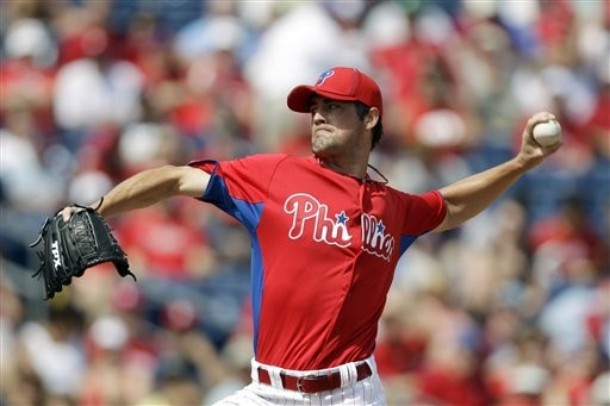 The Phillies began Grapefruit League play on Saturday, falling 8-5 to the New York Yankees. Philadelphia jumped out to an early 2-1 lead, but saw the Yankees score seven unanswered runs in the final seven inning.
Cole Hamels got the start, and performed well in his two innings of work. He allowed a run on three hits (giving up the RBI to former Phillie Raul Ibanez).
With Hamels set to become an unrestricted free agent at the end of the season, the New York fans were making their attempts to appeal to the lefthander Hamels by cheering him.
Jonathan Papelbon pitched a scoreless fifth inning. It was good to see the prized free agent make a strong first impression, even in a Spring Training game. He's had plenty of experience staring down the Yankee lineup from his time with the Red Sox.
Offensively, the only Philadelphia starter with a significant contribution was Hunter Pence, who hit a two-run homerun in the first inning. Ty Wigginton was the only other starter to record a hit.
Jimmy Rollins, Shane Victorino, Jim Thome, John Mayberry, and Domonic Brown were a combined 0-11.
Dontrelle Willis turned in a shaky outing in his first appearance as a Phillie. The former Marlin gave up a run on two hits, and also walked a batter in his only inning of relief. The good news was that the veteran was effective against the lefthanded batters he faced, recording outs against Dewayne Wise and Raul Ibanez. The Phillies are counting on Willis to be a dependable lefty-specialist.
Chad Qaulls and Mike Stutes also struggled out of the bullpen. Qaulls allowed three runs in the seventh inning, and Stutes allowed two in the ninth. Its too early for serious concern about Stutes, but its reasonable to wonder if he'll begin the season in the major leagues. He struggled heavily at the end of the 2011 season, and in the postseason, and the rough outing on Saturday won't help his case at all.
Tyson Gillies, one of the three players acquired in the trade that sent Cliff Lee to Seattle, had two hits in three trips to the plate, including a double.