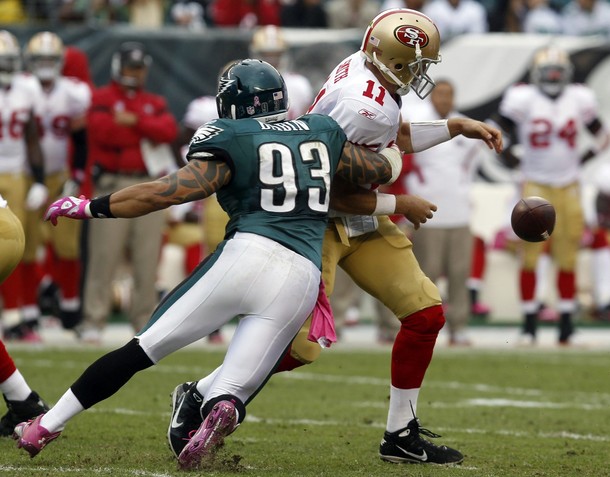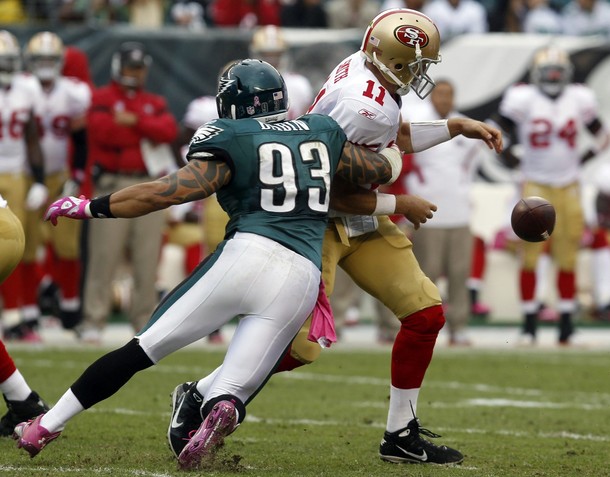 Many of us Eagle fans were wondering if the team really would place the franchise tag on DeSean Jackson or if they'd let him go for nothing. It was clear that either Joe Banner and Howie Roseman want something for Jackson or they want him to remain an Eagle after placing the franchise tag on him this past week.
I think it was a good move, because even if Roseman plans on moving the dynamic player, the team will be able to get something in return for him, whether it's a couple high draft picks or another good player.
What pains me, though, is when I see teammates of Jackson, most notably the Pro-Bowler Jason Babin, act like the franchise tag is some sort of arrest for the explosive wide receiver and punt returner. If you missed the tweet Babin sent to Jackson moments after the Eagles made public they were franchising the four-year veteran, here it is:
@DeseanJackson10 It's life….. just do your thing….

— Jason Babin (@JasonBabin93) March 1, 2012
So, according to Jason Babin, who is currently in a five-year deal worth $28 million, DeSean Jackson on pace to make $9.4 million next season is "just life." Must be hard to make that much in this era of professional football, I guess. Babin went on to tweet again after being criticized by Eagles fans, and rightfully so. Babin said that players want job security and made it seem like a $9.4 million one-year contract was one of the worst possible things an NFL player can have.
See, the funny thing is, I get the whole job security part. I'm sure that Jackson wants a multi-year deal that has guaranteed money instead of a one-year deal. But he's the one who brought it on himself. Whether the Eagles brass was treating Jackson poorly or not, the former UCLA Bruin could have acted in a more professional manner this past year. It was clear that Jackson didn't help his case at all, and the Eagles franchising him is actually a good thing for him since he'll at least be compensated almost $9 million more this upcoming season than he was last season.
But honestly, this isn't about DeSean Jackson as much as it is about Jason Babin. After he was criticized, he continued to go after fans who were calling him out on his stupidity. This comes off the heels of last weekend when Brian Rolle tweeted that the linebackers working out at the NFL Combine in Indianapolis were "weak." When he was bombarded by fans on Twitter who started calling him out and the rest of the Eagles linebackers, he continued to fire back at them. He even made a joke about one of the linebackers at the combine driving the short bus.
It's clear that these current Eagles are not exactly fan favorites. I was pissed off when Michael Vick tweeted a picture of himself golfing two days before the Super Bowl, because that type of self-promotion is something that we sports fans in Philadelphia despise. Especially two days before the Super Bowl, which is the culmination of a playoff system in which the Eagles could not even qualify for this past year. Sad.
Where is the Eagles public relations guy? Why does the organization allow their players to act like jackasses on a consistent basis? They need to realize they're not the top dog in Philadelphia anymore. It's clear to see, on March 3, 2012, that the Philadelphia Phillies have the number one spot in this sports city right now. You can't throw season ticket waiting lists at me anymore. I'm not talking about numbers, although I'm fairly positive the Phillies would be closer to the Eagles than many people think. I'm talking about attitude. I'm talking about relationships that players have with their fans.
You can throw charity work out there, too, because the Phillies do just as much for charity than the Eagles. Do you want to know what the difference is? Mostly, if not all, Phillies players get this city. Eagles players, and you can throw management into the equation as well, do not get this city at all.
I'm tired of the Jason Babin's of this world telling his own fans how they should think. I get it that the Eagles are the center of the venom of most Philly sports fans right now. But they need to deal with it, because there's a million good reasons as to why they are the center of the venom. And people like Babin telling us to use our brains don't really make the Eagles as a whole more likable.