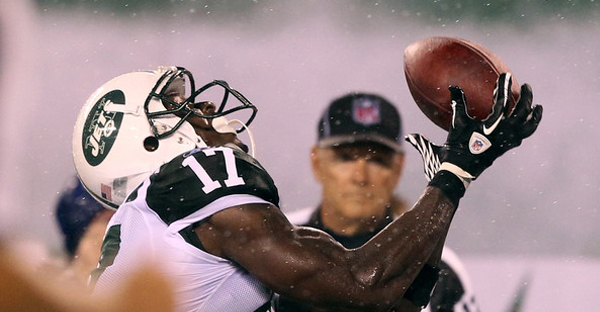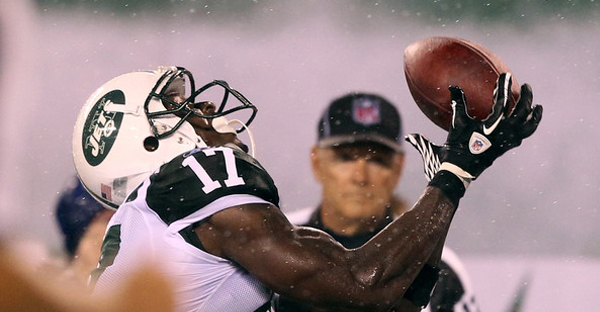 There were thirty-nine seconds on the clock and the ball was on the Patriots fourteen yard line. Eli Manning was moving the New York Giants down the field with a drive that included the luckiest "throw and catch" in NFL history. They were now in the redzone and everybody with at least a first grade education knew who the ball was going to….
"39 seconds left………….Manning…LOBS IT…BURRESS…ALONE! TOUCHDOWN NEW YORK!"
….and with that, the New York Giants went on to win Super Bowl XLII. Do you remember asking yourself – "Why don't the Eagles have a guy like that? Where is our big target? How do we get a guy that everyone knows is going to get the ball in the red zone, but that nobody can do anything about?"
We now have our opportunity to get that prized red zone "target". His name is Plaxico Burress.
Don't get me wrong, when Burress was first released from prison, I wanted nothing to do with him. I despised Burress – the football player, not the person. The hate towards Burress the football player was real. There was absolutely no way that my beloved Birds would try and sign him. He was out of football for two years and was going to turn 34 before the 2011 season began, so I just couldn't see him wearing the wings on his helmet.
Then came the reports that the Eagles were showing interest and in an effort to accept what I thought was inevitable at the time, I asked myself "Why do I hate this guy so much? ". He made a stupid mistake in his personal life and paid the price for it, but was that why I didn't want him on my team? No. I'm a strong believer that people make mistakes and learn from them so that couldn't be the reason. Then it hit me.
In 11 games vs. the Philadelphia Eagles (including postseason), Plaxico caught 42 receptions for 733 yards and 8 touchdowns. The reason why I had so much hostility towards #17 is because #17 made it a habit to be a thorn in the side of every single Philadelphia Eagles fan. I finally realized that in order for my favorite team to continue to have prosperity on the offensive side of the ball, my disdain for Burress was going to have to disappear. That's what I tell myself at least – it makes me feel like I'm part of the decision making process.
Fast forward to 2012. After a year in which Plaxico caught 45 receptions for 612 yards, 8 touchdowns (while making Mark Sanchez look like a legitimate quarterback at times in the process), and helped turn the New York Jets red zone efficiency ranking from 30th in 2010 to #1 in 2011, Burress is publicly campaigning to take his talents to South Philly so that he can join MV7 and the gang. The Eagles showed interest last year, should they pursue him again now that Burress has his "football legs" underneath him? The answer should be an unequivocal and resounding YES!
Forget about what is happening with DeSean Jackson at the moment. This isn't about him and I'm not campaigning for Burress to be his replacement. However, I am campaigning for the Eagles to sign a weapon that will improve a red zone efficiency that while not as bad as many seem to believe, is not as good as it should/could be. The Eagles were ranked 14th in red zone efficiency in 2011, scoring a touchdown in 51% of their trips inside the 20. They were 5th in points scored but think about where they would have been if they could have turned those field goals into touchdowns and stopped turning the ball over — did I forget to mention they also led the league in red zone turnovers? Different story, different day.
In no way, shape or form am I trying to insinuate that signing Plaxico Burress would heal all of our red zone woes. Mike Vick needs to keep reminding himself that the football is not a baton and Andy still needs to keep doing a better job of putting his players in a "better position", but adding Plaxico to an offense that consists of Michael Vick, DeSean Jackson?, Jeremy Maclin, Brent Celek, and Shady McCoy would truly make this offensive machine unstoppable.
No offense to Jeremy Maclin and DeSean Jackson, but their talents are more suited towards stretching the field. Jason Avant has the ability to catch real-life bullets, but his inability to consistently get separation irks me. Riley Cooper had a chance to become that "go-to guy" when near "paydirt" but Tramon Williams quickly put an end to that experiment. As for Brent Celek, I believe the Eagles have exhausted all of their play-action roll outs to get Brent Celek open in the endzone. Even Ray Charles can see that play coming every time they get inside the twenty.
Should improving red zone efficiency be the #1 objective on the Eagles "to-do" list? Absolutely not, but they should address it by adding a player that cannot be single-covered in that area. Plaxico Burress is that player, and we as fans, should welcome him with open wings.