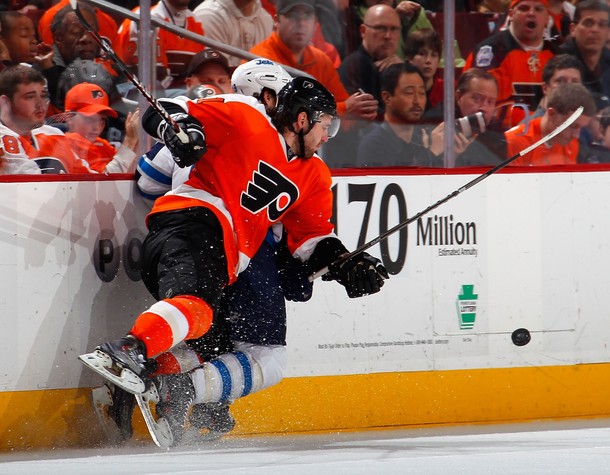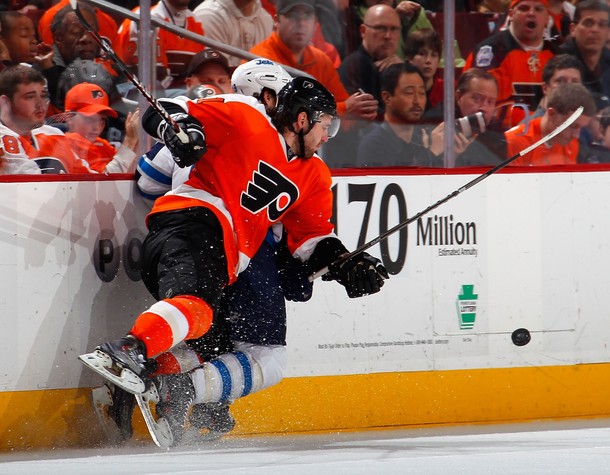 The report from Tim McManus yesterday that defenseman Erik Gustafsson had been recalled from the Adirondack Phantoms was made official this afternoon. In the last hour, the Flyers released the explanation why- Kimmo Timonen and Andrej Meszaros will be out of the line-up "indefinitely" with lower body injuries.
It was believed for awhile that Timonen was playing hurt, so sitting him to rest for the playoffs was a concept that had been floating around, but losing Meszaros puts a more immediate strain on the blue line if the team has to rely on a rookie and a veteran who played just three games in the last month for the foreseeable future.
The pairing of Matt Carle and Braydon Coburn will likely continue while Pavel Kubina will remain paired with Nicklas Grossman. Gustafsson and Lilja will make up the fifth and sixth defensemen.
Holmgren's trades look particularly smart in the light of these injuries. Had Homer balked at losing draft picks, the Flyers would have to rely on Marc-Andre Bourdon in a top-four position (although he's out with an upper body injury of his own) and one of rookies Blake Kessel or Oliver Lauridsen as the sixth defenseman.
The Flyers have responded well this season in light of injuries. The December 15 win against the Montreal Canadiens after losing Claude Giroux (and Chris Pronger, to an extent) comes to mind as a good example of how the character of this team has handled the roster changes well.
Hopefully they can make up for the drop in experience and talent with conservative play and sixty minutes of effort.
For the latest Flyers news and updates, you can follow me on twitter (@JoshJanet).