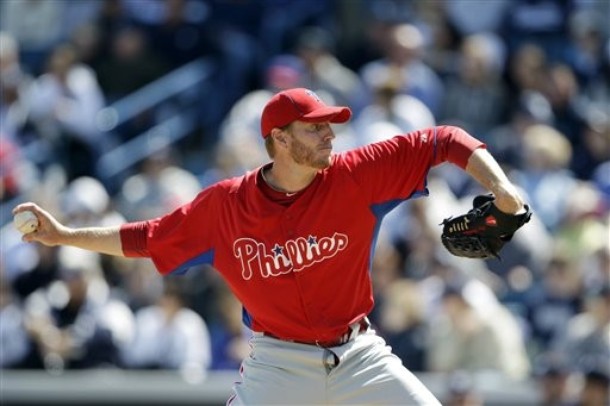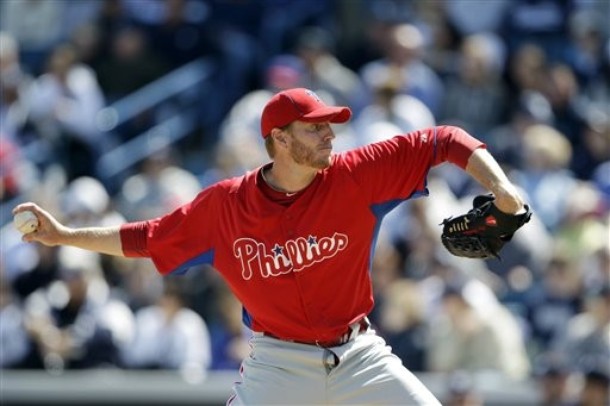 The Phillies dropped their second game of Grapefruit League play on Sunday to the New York Yankees, losing 7-4. For the second straight game, Philadelphia got out to a 2-0 lead, only to see it disappear with the help of struggling relievers and defensive errors.
In his first appearance of the Spring, Roy Halladay struck out three batters, and gave up a run on two hits in two innings of work. The ace's only run allowed came on a solo homerun from Alex Rodriguez in the first inning.
In 2011, one of the only issues with Halladay's game was that he seemed to have trouble getting off to strong starts. He had a recurring theme of letting the opposition get off to early leads in the first inning. It's worth monitoring whether or not that trend continues in 2012.
For the second straight game, Hunter Pence was responsible for most of the team's offensive output. The right fielder hit another two-run homerun in the first inning, this one came off of former Phillie Freddy Garcia.
Domonic Brown had a good game at the plate, going 2-4 with a triple, but had a costly error in the field in the seventh inning.
John Mayberry started a first base once again, and got his first hit of the spring, a double.
Antonio Bastardo shutdown the Yankees in the sixth inning. The lefty is a key reliever in the bullpen, and will likely be the primary candidate to pitch the eighth inning this year.
Laynce Nix didn't have an impressive performance, going 0-3 with two strikeouts.
Infield prospect Freddy Galvis started at shortstop, and went 2-4 with a double and an RBI. He also made a pair of impressive plays in the field.
Phillipe Aumont, the most important piece of the Cliff Lee trade, allowed three runs on four hits in his spring debut, but only one of them was earned. The righthander started out the inning in a tough spot when Domonic Brown dropped a fly ball in left field, but still gave up four hits in the inning.