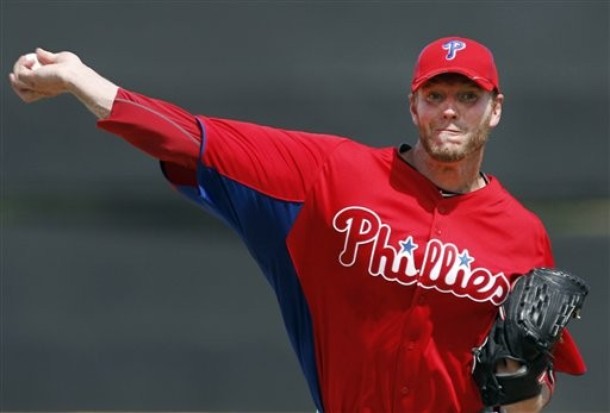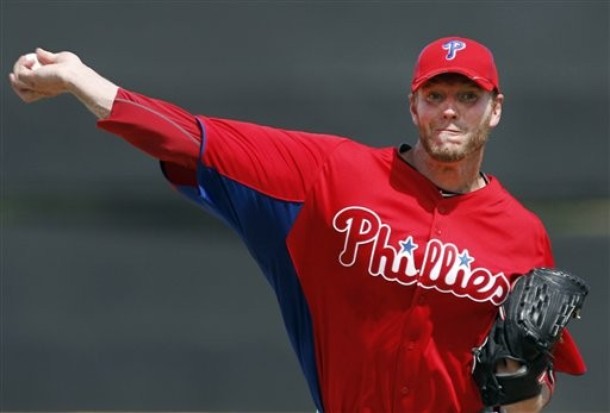 The Phillies fought back from a four-run deficit on Friday to earn a 7-5 victory over the Detroit Tigers. Philadelphia put on a three-run rally in the sixth inning, and added four more in the seventh. It was the second straight win for the Phils, lifting their Grapefruit League record to 4-3.
Roy Halladay had an up and down performance in his second start of the spring. The former Blue Jay gave up three runs on four hits (two homeruns), struck out four, and didn't walk a batter in three innings.
Halladay had trouble finding his groove, and gave up another run in the first inning on a solo homerun to Eric Patterson. Patterson would homer again off of the ace in the third inning for a two-run shot.
The good news to report on Halladay is that Eric Patterson was the only batter that seemed to give him fits. He allowed just one hit to the rest of the Detroit lineup.
Carlos Ruiz dealt one of the biggest blows at the plate in this game with a three-run homerun in the sixth inning.
Joel Pinero gave up a run in two innings in relief of Halladay. He performed fairly well, giving up only two hits, though one was a solo homerun. The veteran starter's ERA is at 4.50 for the spring so far.
Juan Pierre went 1-2 and scored a run. He's batting .400 so far.
Tyson Gillies got the start in centerfield, and went 0-2 with a walk. The young outfielder has been struggling at the plate in the last few games, and is hitless in his last seven plate appearances.
Lefthander Jeremy Horst made his second appearance of the spring, and pitched 1.2 scoreless innings, giving up two hits and striking out one. With Dontrelle Willis failing to impress so far, it could open the door for a young lefty like Horst to get a shot as the second lefthanded specialist in the bullpen.
John Mayberry went 1-3 with an RBI double.
David Herndon pitched 1.1 scoreless innings, allowing two hits and giving up a walk. He's yet to allow a run in Spring Training so far.
Laynce Nix went 1-3, picking up his first hit of the spring, and raising his average to .071.
Freddy Galvis got the start at shortstop, and went 1-2.  He's batting .357 through seven games.
Brian Sanches earned a save, but gave up a run on two hits in the ninth inning.