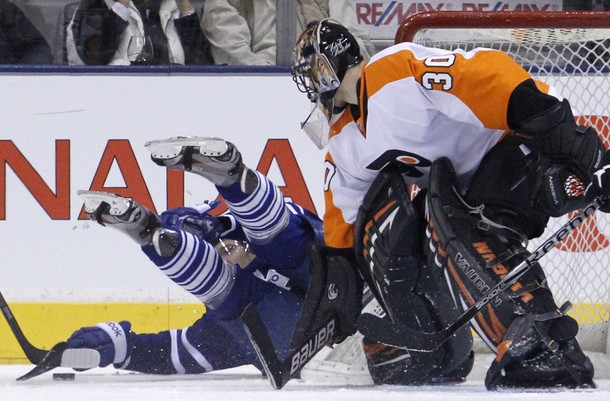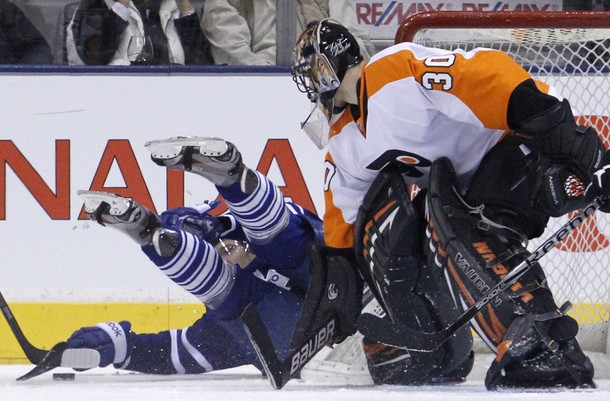 In the first of back-to-back games this weekend, the Flyers traveled to Toronto to take on the Maple Leafs with the intent of extending their win streak to five. Jake Voracek, Pavel Kubina, Kimmo Timonen and Andrej Meszaros remained out for the Flyers while the Leafs did not have Joffrey Lupul available (separated shoulder).
The first two periods were uneventful on the scoreboard, as neither team could really "dominate" the other and control the play, but the Leafs were the more dangerous team. Even though the Flyers were leading 17-15 in shots, Ilya Bryzgalov was the main reason that the Flyers stayed in it.
Had the Leafs been able to bury any of the half dozen "gifts" that the Flyers left for them, this could have been a much different game.
The Leafs were also amping up their physical game against Claude Giroux, who was targeted by captain Dion Phaneuf early in the game. Scott Hartnell and Wayne Simmonds stepped in during the second period to put a stop to it, with Simmonds eventually pummeling forward Joey Crabb.
The third period proved to be more of the same- the Leafs generating scoring chance after scoring chance, but the Flyers held them off through the final twenty minutes along with overtime.
The shootout had been awful for Bryzgalov in the first half of the year, but after stopping four of five attempts in the shootout win against the Calgary Flames back in February, there was hope that he could continue his brilliant play tonight to close the deal.
Sure enough, Bryzgalov handled all three shootout attempts easily while Giroux secured the win with a nasty move against Jonas Gustavsson. Bryzgalov now has back-to-back shutouts and three shutouts in his last four games.
Defensemen Nicklas Grossmann, Braydon Coburn and Matt Carle played well in the wake of losing each of their respective defensive partners. Cobuurn and Carle led the Flyers' defense in ice time with more than 26:00 and two shots each while Grossman finished with eight hits. Even Andreas Lilja, who had some questionable plays in the first period, led the team with seven blocked shots.
The win tonight keeps the New Jersey Devils from tying them in the standings, making tomorrow night's game all the more important.
For the latest Flyers news and updates, you can follow me on twitter (@JoshJanet).