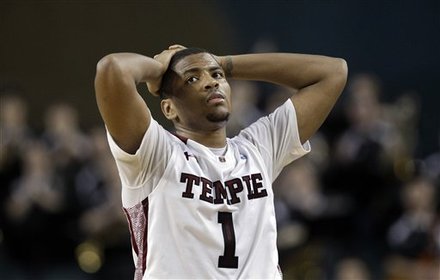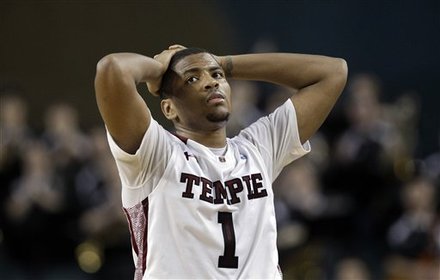 UMass gave the Temple Owls their own version of an early A-10 exit, with a 77-71 defeat of Temple knocking the Owl's out of the A-10 tournament after only one game.
UMass opened the second half on a 15-0 run, led by Jesse Morgan who finished with 21 points and Chazz Williams who finished with 20. Temple did not record its first bucket until the 14:15 mark of the second half when Ramone Moore hit a three.
Led by Moore and Juan Fernandez's three point shooting Temple was able to bounce back and take the lead 58-57 with 8:50 left in the second half, but once again Williams and the Minutemen responded outscoring Temple 20-13 down the stretch for a 77-71 win over the Owls.
"Hopefully we use this as an opportunity to play better basketball," Temple coach Fran Dunphy said on the loss after the game.
The Owl's for the second time in two weeks struggled to keep up with the up-tempo Minuteman offense, and failed to have an answer for UMass's 5'9 point guard Temple OWilliams who made the Owl's backcourt look sluggish.
Temple most likely will end up as a 6 seed in the field of 68, and is rumored to open the tournament in Pittsburgh. If there is any silver lining to the loss, had the Owls won they most likely would have been a 5 seed playing across the country in Portland Oregon. At least now, more Temple fans can make the trek to Pittsburgh.
Temple's loss hurt more than just Owl's fans, as a result of Temple losing to UMass, Drexel fans must pray St.Louis wins the A-10 tournament. Drexel cannot afford to have conference tournament favorites such as Temple lose in the conference tournaments, with every un-expected conference tournament champion Drexel gets one step further from landing in the field of 68.
Temple appears to have cooled off since its 11 game winning streak that lasted through January and February. The cold spell may have begun in Temple's final win of its 11 game win streak. The Owls blew a 71-64 lead to LaSalle with 1:50 to play before winning 80-79 in overtime. The Owls followed up the LaSalle squeaker with a 10 point loss to Big 5 rival St.Joe's. The Owl's inability to close nearly cost them a week later as they blew another late game lead to UMass, this time it was a 7 point lead with 1:19 to play. The Owls ultimately won in overtime, but struggled to hit clutch free throws down the stretch which made what should have been an easy win a 90-88 nail biter.
If Temple expects to reach the second weekend of play in the tournament for the first time since 2001, they better learn to close out games. Missed foul shots in crunch time could result in a heartbreaking early round defeat next weekend.
Temple fans that are looking for a statistic to keep their mind set positive heading into tournament play, look at this one: Fran Dunphy has not allowed the Owls to lose two straight games since December of 2008, when the school fell to Buffalo and Miami of Ohio in back to back games. If recent history is any indicator the Owls should be fine in its first game of tournament play.