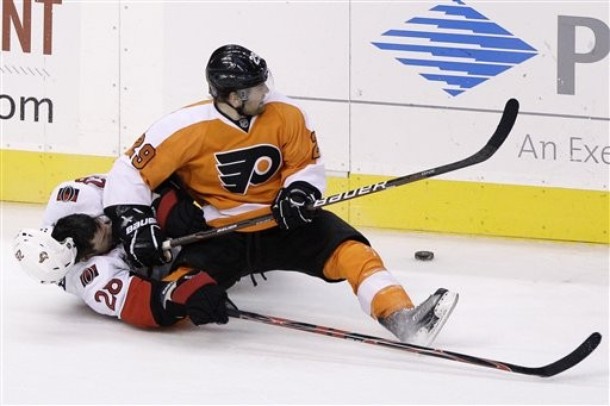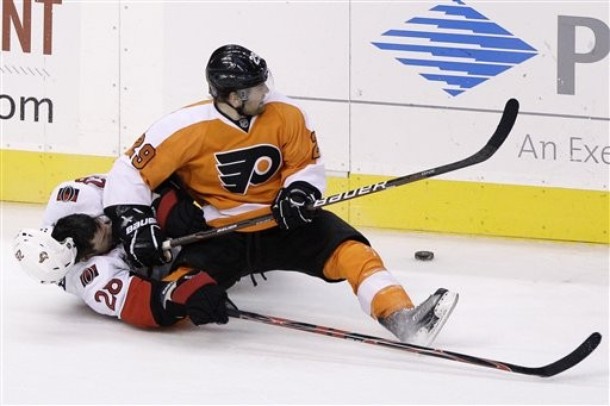 The Adirondack Phantoms announced this afternoon that Harry Zolnierczyk has once again been recalled by the Flyers. I'm not even going to attempt to surmise how this falls under the Flyers' recall/emergency conditions, as it was pointed out by others that it's a rule with no clear definition from the NHL (and also, that I was wrong last time).
When Harry Z was recalled last Thursday, it was in case Jaromir Jagr wasn't available to play against the Florida Panthers.  Jagr not only scored in that game, but jumped back to the top line last night against the Toronto Maple Leafs.
With back-to-back games, Zolnierczyk's recall could be just a case of giving Jagr or Claue Giroux a rest as they cope with nagging injuries. It's also just as likely that one of the forwards has an unknown injury keeping him out of the line-up, and the Flyers won't announce who is "day-to-day" until 6:59 PM.
The only forwards who didn't take more than two shifts in the third period against the Leafs were Eric Wellwood and Jody Shelley, and nobody would blame Peter Laviolette for keeping those two off the ice in a tightly-contested 0-0 game.
Tonight's game has important, albeit short-term, ramifications. If the Flyers win, they stay within two points of the Pittsburgh Penguins, who are about to beat the Boston Bruins 4-2 (leaving them with 89 points).  The Flyers will also be within reach of the New York Rangers, who have 91 points but have only won four of their last ten games.
A loss to the Devils would keep the Flyers in 5th place, but tied in points with the Devils (who have a game in hand on them).
For the latest Flyers news and updates, you can follow me on twitter (@JoshJanet).