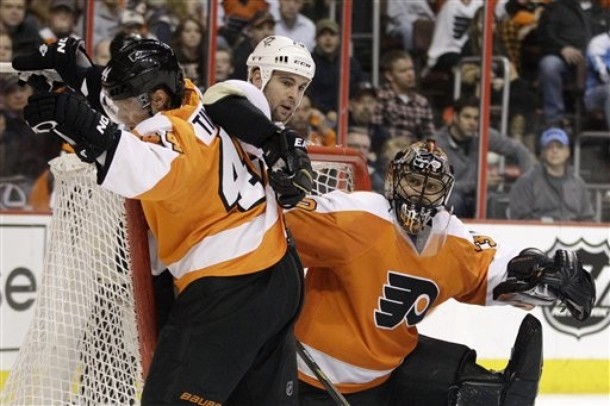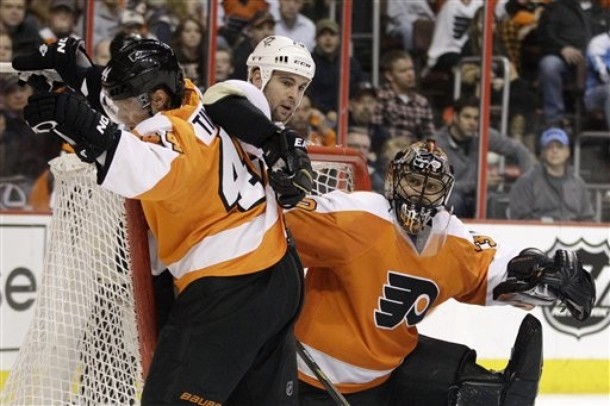 The Flyers announced today that both goaltender Ilya Bryzgalov and defenseman Kimmo Timonen will be out for Thursday night's game against the Toronto Maple Leafs. Each is considered "day-to-day" and may be available to play this weekend.
According to the Flyers' home page, Bryzgalov has a "chip fracture in his right foot" and the organization doesn't think this is a "serious injury." The next few days will be critical, as a bone chip wouldn't warrant alarm while a chip fracture would.
Sergei Bobrovsky will start in net on Thursday while Jason Bacashihua has been recalled from the Adirondack Phantoms to serve as back-up. Goaltender Brad Philips has been recalled from the Trenton Titans of the ECHL to fill in with the Phantoms.
Regarding Timonen, the back injury that has bothered him in the past is believed to be what is holding him out of the line-up. Timonen was shoved into the Flyers' net yesterday and went down awkwardly, though there has been no indication if this had anything to do with his current status.
The Flyers recalled defenseman Marc-Andre Bourdon as a precaution, but Andreas Lilja will likely get the nod instead.
A win against the Maple Leafs is critical if the Flyers are to gain any ground in their pursuit of home ice advantage in the playoffs. Both the Pittsburgh Penguins and New York Rangers will be playing tonight, each against weak NHL teams (the New York Islanders and Minnesota Wild, respectively).
The Maple Leafs, meanwhile, are going to be playing their most desperate game of the season should they win tonight against the Carolina Hurricanes. The loser of that game will officially be eliminated from playoff contention.
The Flyers have banded together in the past when injuries cropped up, and Thursday should be no different.
For the latest Flyers news and updates, you can follow me on twitter (@JoshJanet).