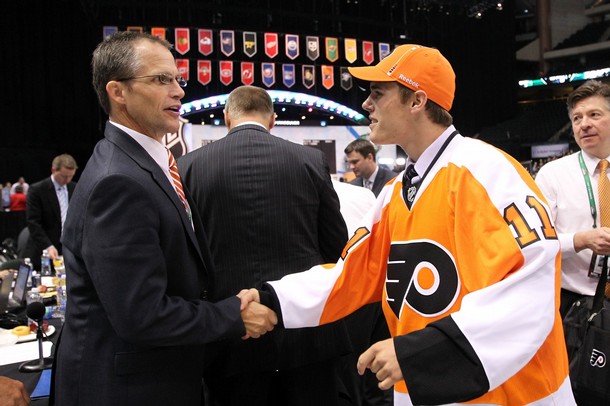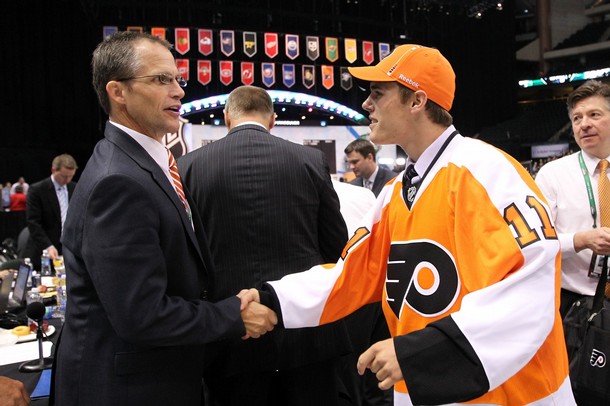 Jeff Carter continues to be the gift that keeps on giving. In addition to Jake Voracek and Sean Couturier, the Flyers were able to use their 3rd round draft pick last June to pick up a young center in Nick Cousins. Cousins, having wrapped up his junior season with the Sault Ste. Marie Greyhounds of the OHL, announced today via twitter, "Just signed my first NHL contract. Feels good to officially be a part of the Flyers organization. Off to Glen Falls tomorrow."
Cousins finished the 2011-12 WHL season with his best production to date- 35 goals and 88 points in 65 games. By comparison, Couturier finished last season with 36 goals and 96 points in 58 games played. Couturier is 6′-4″ compared to Cousins' 5′-11″, but it's safe to say that Cousins has proven he is a great prospect to have in the system.
It's unlikely that he will join the Flyers next season, as the team already has too many centers (and rookies, for that matter). He is too young to join the Phantoms for the full season as well.
For now, he will join newcomers Derek Mathers and Campbell Elynuik on the Adirondack Phantoms roster. Mathers, a 7th round draft pick in 2011, was signed by the Phantoms to an amateur tryout (ATO) contract last Thursday while Elynuik, a past invitee to the Flyers' training camp, was signed to an ATO today. Mathers and Elynuik have combined in their respective junior seasons for 14 goals, 31 points and 309 penalty minutes. In other words, these guys are bruisers.
For the latest Flyers news and updates, you can follow me on twitter (@JoshJanet).