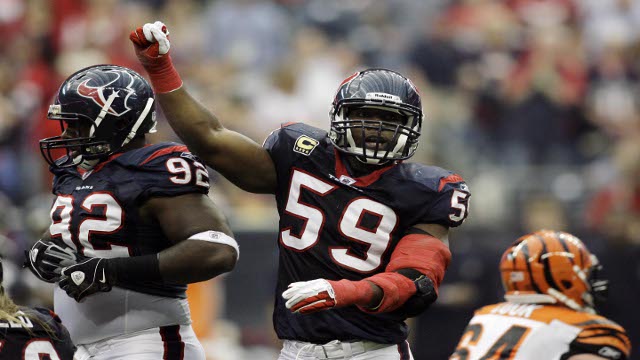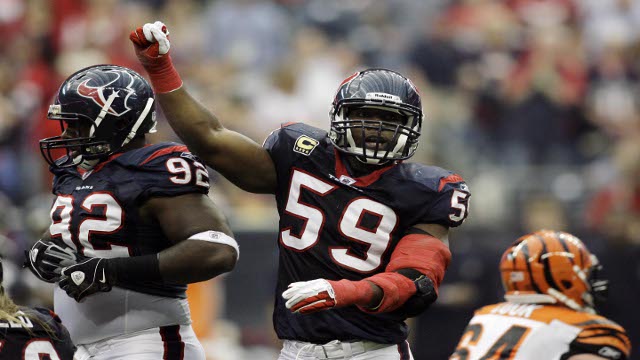 The prevailing opinion around the league is that the Eagles got the best of last week's swap that sent a fourth-round draft pick and a swap of third-round selections to the Houston Texans in exchange for 27-year-old former All-Pro middle linebacker DeMeco Ryans. And it's hard not to feel that way.
Ryans has been one of the best at his position since entering the league out of Alabama in 2006. He went on to win NFL Defensive Rookie of the Year that season, made two Pro Bowls (2007, 2009) and was All-Pro in 2007. His impressive resume speaks for itself.
By now, we all know that Ryans missed 10 games during the 2010 season due to a season-ending Achilles injury, but he bounced back to play in each of Houston's games a year ago. We also know his production suffered, partly because he wasn't fully recovered from the injury, but partly because of the team's switch to a 3-4 base defense that saw Ryans on the field for approximately only half of the team's defensive snaps.
Still, most who watched the former University of Alabama standout agreed that he became more comfortable as the season progressed. Former coaches and teammates alike have unanimously agreed that Ryans is a great team leader who will thrive on the field with the Eagles.
So what gives? Why would the Texans do a deal like this? Sure, Ryans cap number is undesirable, particularly if he isn't ideal for what the Texans want to do on defense, but elite middle linebackers aren't a dime a dozen.
So is there really something more to this whole deal than meets the eye?
That's what we we here in Philadelphia do–we think worst-case scenarios.
Texans head coach Gary Kubiak tried to explain what to most appears to be a very questionable deal yesterday at the NFL owners' meetings.
"No doubt, he played his best football for us at the end of the year, there's no doubt about that," Kubiak said. "Absolutely no doubt. He battled his elbow, he battled his Achilles, but at the end of the year he played his best football for us."
One would have to assume that the Texans don't think they traded away a complete lemon to the Eagles, but it's still fair to wonder if they know something the rest of us don't.
Kubiak believes that Ryans can be still be a three-down linebacker in the right fit. And it appears, at least initially, Philadelphia may provide the right fit.
Even if Ryans fails to meet the lofty expectations in terms of physical play, his communication and leadership skills are something that the Eagles sorely needed. And Kubiak has full confidence that he'll help the Eagles in that respect.
"All you have to do is turn the film on and watch him," Kubiak said. "He runs the show. Everybody goes to him, they trust him so much and what he's doing. He really raised Cushing in a lot of ways. … He's just a guy on the field that gave everybody some calm: 'Hey, I got it under control. What are we doing? What's our adjustment?' DeMeco let us know we got it."
Ultimately, there's a bit of uncertainty regarding any trade–teams don't know what they have until the player goes out there and does it. And this trade is no different, but you have to assume that regardless of whether or not Ryans returns to form that he's still going to provide a significant upgrade to the play and cohesiveness of a unit that spent much of last season completely out of whack.
We tend to be skeptical and negative around here because we've seen this show before. We were promised playmakers with the arrival of Will Witherspoon and Takeo Spikes–it didn't happen. But Ryans is significantly better than both of those players at this point in his career.
We tend to contain our enthusiasm because we watched Nnamdi Asomugha–the market's slam-dunk best defensive player of a year ago get worked by Victor Cruz. We watched him commit untimely penalties. And we watched him out of position far too many times. We are a bit on edge because it's been 52 years since the Eagles were the last team standing and because of brutal losses to St. Louis, Tampa Bay, Carolina, New England, and Arizona in championship rounds. We've been betrayed and stung so many times that even when something seemingly good happens, our first response is "yeah, but…"
But nothing. We have to let this go. Wounds heal. This is a good move. And it was the right to make for this team right now. Nothing is guaranteed, but we just have to enjoy the ride.
So while I get the skepticism, we have to take a collective step back from the ledge and assume that even if Ryans doesn't return to peak form, he's still going to provide a major boost of to this defense.
There's a reason that the prevailing thought around the league is that the Eagles got the best of the DeMeco Ryans trade–because they probably did.