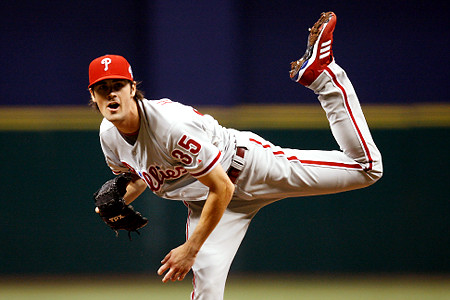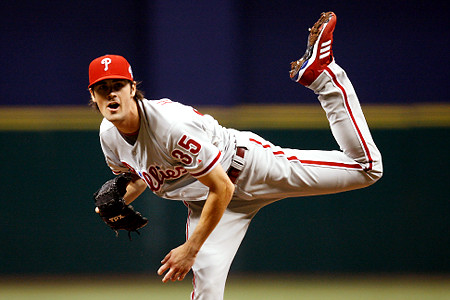 The richest contract ever given to a right-handed pitcher in Major League Baseball history was signed earlier this week. Can you guess who signed it? Roy Halladay? Nope, try again.
Reigning American League Cy Young Award winner and MVP Justin Verlander? Get to the back of the line. Former World Series MVP Josh Beckett? Not even close. Seattle Mariners phenom Felix Hernandez? You lose.
The answer we were looking for was Matt Cain of the San Francisco Giants. Yes, that Matt Cain, he of the 69-73 career record. Thanks for playing.
Cain and the Giants agreed to a 6-year, $127 million deal that will pay the 27-year-old hurler just above an average of $21 million per year and keep him by the Bay until at least 2017.
Good for him. He's a great pitcher – a two-time All Star with a 3.35 career ERA – and will keep getting better as time goes on. But, seriously? Don't worry, that was the reaction from many around the game.
This contract is a ludicrous overpay and  panic move by San Francisco to keep a guy that has a career 69-73 record in the fold. The Giants panicked under pressure, gave into demands, and in turn, have skewered the market for upcoming free-agent pitchers, including Phillies stud lefty Cole Hamels.
Translation: It just became infinitely more difficult for the Phillies to keep Cole Hamels.
As we all likely know, Hamels recently signed a 1-year, $15 million deal that will allow him to become a free agent after the 2012 season. If Cain is worth $127 million then Hamels is worth his own weight in gold and then some. $127 million will just be a starting point for the Hamels camp.
So, how do the two pitchers stack up against one another? (All stats courtesy baseball-refernce.com.)
Cain is 27 years old while Hamels is a year older at 28.
Cain has a career 69-73 record while Hamels has compiled a career 74-54 record.
Cain has a lifetime 3.35 ERA while pitching his home games at cavernous AT&T Park. Hamels has a career 3.39 ERA while pitching his home games at the launching pad known as Citizens Bank Park.
Both pitchers are two-time All Stars with a World Series ring.
Hamels has an NLCS MVP and World Series MVP trophy on his mantle. Cain does not.
Cain is righ-handed while Hamels is left-handed.
So, who would you rather have on your team? Cain or Hamels?
Hamels is the easy choice and it's not even close. Cole has done it all and hasn't come close to his full potential yet. His changeup is amongst the best in the game and he's achieved greatness without Cliff Lee and Roy Halladay on his team. He is a legit number one. Is Cain a legit number one without Tim Lincecum around?
Cole's left-handedness holds more weight than most recognize. The top three highest paid pitchers for the 2012 season are all left-handed. The Mets' Johan Santana will make $24 million. The Yankees' CC Sabathia will make $23 million. Our Hometown Hercules, Cliff Lee, will make $21.5 million.
Hamels is likely to make somewhere in the vicinity of these deals. The real question is can the Phillies afford to sign another deal of that nature when they have Lee and Roy Halladay ($20 million in 2012) on similar deals for the foreseeable future? They would surely have to increase an already lofty payroll or cut payroll somewhere else.
The fact that numerous teams willing to pay that kind of dough will be lining up for Hamels' services. The now Magic Johnson-led Los Angeles Dodgers are certain to be at the top of that list. Cole is a So-Cal kid so, if the opportunity arises, the allure of returning to his home area for big money may be too much to turn down.
The Giants didn't do the Phillies any favors when they agreed with Cain on the ridiculous deal. They have set the market. As stated above, $127 million should be the starting point for Hamels' agent because Hamels is better than and worth more than Cain is.
The key for the Phillies is getting Hamels to agree to a new deal on their terms and getting it done before the end of the season, which is much easier said than done. See Albert Pujols.
If Hamels ends the season without a new deal, things could get dicey for the Phillies thanks in part to the Giants and Matt Cain.