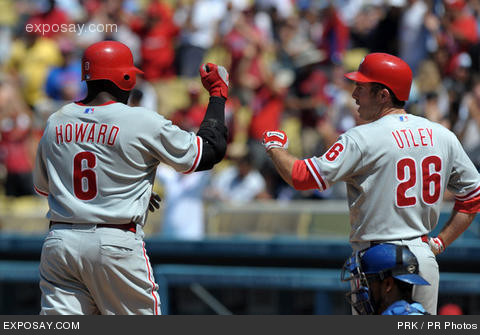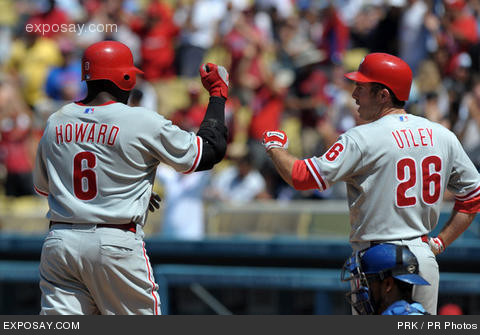 If the Phillies offensive struggles during spring training wasn't enough of an indication as to what fans should expect from this season's Fightins, then their 2.3 rpg in the Pirates season factored in by their two-run output against the Marlins in game one of that series should convince the Philly faithful that this team is not equipped for their sixth straight NL East title.
Recent reports regarding the Phillies outcome heading into this season have voiced much optimism in how the team will fair. Many believe that with the Big Three, and I'm not talking about Roy Halladay, Cole Hamels, and Cliff Lee but with the return of Chase Utley and Ryan Howard to go along with J-Roll will make this team the odds on favorite in their division. With those bats back in the lineup combined with the aforementioned three aces one could make the case. But with chronic injuries plaguing this franchise's finest; it's hard to believe that even with them back how realistic is it for the team to return to the form that spectators are so used to seeing.
Heading into this season we see a worn down club with aging bats that have reached their peak tallied by well paid-pitchers that are carrying the weight of the team on their shoulders upon each and every start.
The Phils opening day lineup managed eight hits in the win against the Pirates, but just two of those hits came from the middle of their lineup. Rollins, a reliable bat over his career while dressed in pinstripes, will be 34 at the end of this season and hasn't played more than 140 games since the 2009 season. It's proven that when the heart and soul of this club plays he plays he does produce, but will he be able to continue the longevity at shortstop heading into his upper thirties.
Chase Utley who has emerged himself as a model athlete and citizen in this city since getting the full-time 2nd base position in 2005 has faced knee injuries over the past few seasons that have left him questioning his future playing pro baseball. With essentially no cartilage remaining in one of his knees, it will be realistically impossible for the cornerstone infielder to return to the similar numbers that he had in the 2008 MVP caliber season in which he recorded 33 homers and 104 RBI's. Utley played in just 103 games last season and featured in 115 games in the 2010 season.
Utley isn't the same player he was in the past.  Even Charlie Manuel acknowledged it when he moved him to the second spot in the batting order for last year's playoffs. He hit only 11 home runs and drove in only 44 runs in over a 103 games.  Utley may never ever be a legitimate three-spot hitter again.
His batting average has dropped from .332 in 2007, to .298 in 2008, to .282 in 2009, to .275 in 2010, and to only .259 in 2011.  That's a 70 point drop in five years.  With an indefinite timeline as to when he will re-join the club, Utley at this point in his career won't have much fuel left in the tank without a knee to plant to be an everyday second baseman.
One of the biggest mysteries heading into this year's Phillies was the status of Ryan Howard and would he be able to play come opening day. He wasn't ready and probably won't be for a few more weeks as he continues to recover from offseason surgery on repairing his Achilles tendon. The constant home run threat in the middle of the lineup has declined in those power numbers that we are so accustomed to seeing since 2008 as well when he hit for 48 bombs and 146 ribbies.
Such numbers seem unrepeatable for any star even in perfect health but coming off back to back 33 plus home run seasons and an OBP that has dropped almost 20 points since 2009 it doesn't look like the big man in the middle will have an increase from that ceiling. Look for Howard to struggle mightily when he returns to the lineup for he will still be in search of his swing.
Not to sound overly pessimistic, but the Phillies only have one thing going for them, even when the club get all of their pieces back. Those factors include pitching and experience, something that the Phils have more so than their division opponents.
But the Phils will not be able to ride on that all season. Teams in the NL East have made a number of offseason moves that have put them in position to dethrone the reigning Fightins. For Charlie Manuel and Ruben Amaro they have done a great job over the years building around their superstars and putting platoon players in positions where they can contribute. The franchise has withstood the test of time, but the legitimate reality of this team is that the young and upcoming superstars are not young anymore.
This season in addition to heading into next season the franchise will have to make moves for the future and may be facing those debilitating words "rebuild" or at least reload. We saw signs of this when the Phillies tried implementing some of their top prospects into the mix such as Dominic Brown and John Mayberry Jr.
Brown has showed growing pains in his transition to the big leagues as he still tries to find the right approach at the plate and trying to trip down his long flailing swing. Mayberry is an older prospect but has shown glimpses of promise at times, but the question mark with him is can he be an everyday player and produce at the same rate over a 162 game season.
The 2012 Phillies area team right now trying to find their niche. The Pattison Street squad will rely a lot on their starting pitching this season and hopefully they will be able to give a good seven to eight innings each night to then hand it over to off-season acquisition closer Jonathan Papelbon. The home run balls of old that helped the Phils make up for large deficits will not be a crutch to lean on. With Wigginton as a five-hole hitter while trying to depend on a cast of utility players will not go over well if the Phillies look to make a trip back to October.
If you're Charlie Manuel you should probably take a few pages out of the San Diego Padres playbook back when they had that stellar pitching led by Jake Peavy and Chris Young to go along with the ageless Trevor Hoffman at the end of games.
The team's offense played "small ball", something that hasn't been uttered in the Phillies organization in decades. They will need players that will step in the box batting for average instead of swinging for the fences. The only hitch in this formula that seems perfect suit for the bats in this lineup is that the Padres play in Petco Park and the Phillies play at Citizens' Bank Park the home of pop flies that end up six rows deep into left and right field.