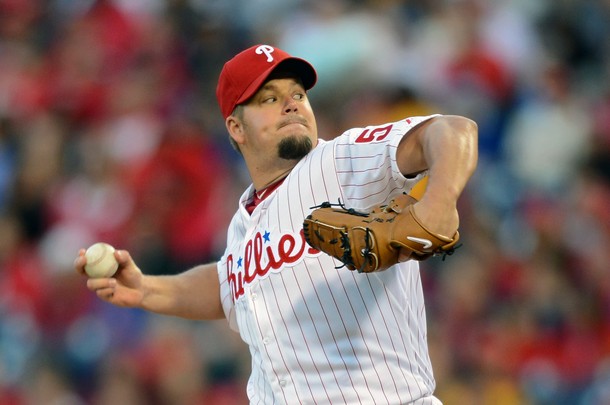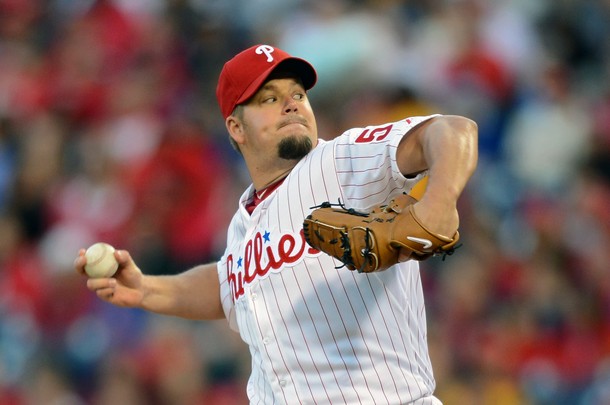 The Phillies won their second game in a row on Thursday, ousting the Miami Marlins 3-1. If tonight's game was any indication, the Phillies' starting rotation may be even better than advertised in 2012.
Joe Blanton made his first start of the season, and turned in one of best performances ever as a Phillie. The righthander was brilliant in his seven innings of work, allowing just one run on three hits, striking out three, and walking only one batter. The veteran worked quickly, throwing just 85 pitches, and had excellent command of his fastball, keeping the talented Miami lineup under wraps for the majority of the night.
The Phillies offense finished the night with three runs on eight hits. Miami starter Mark Buerhle didn't allow a hit until the fourth inning when he surrendered a leadoff homerun to Shane Victorino. John Mayberry singled home another run three batters later, and the Phillies would tack on another run in the seventh inning when Ty Wigginton hit a solo homerun, his first of the season.
Chad Qualls and Jonathan Papelbon combined to record to final six outs to preserve the win for Blanton. Qualls recorded two quick outs to start the eighth inning, but struggled with his final three batters, allowing hit and giving up a walk before ending the inning with a strikeout. Papelbon also got himself into a bit of a jam, and let up two hits before forcing John Buck into a game-ending double play to earn his second save of the season.
Blanton's performance was nothing short of eye-opening. He pitched with a purpose in this game, holding the top of the Miami order to a combined 1-14. His performance made me believe that he may have a real chip on his shoulder in his contract year.
It had been nearly a full year since Blanton last made a start as a regular member of the Phillies' starting rotation. In the time between, he's had to work his way back from a lingering elbow problem that cost him the majority of the 2011 campaign. He's also been the subject of various trade rumors; the Phillies have attempted to move him in each of the last two seasons to help clear money off of their payroll. The Phillies also didn't give him much of a vote of confidence when they tried to trade for additional rotation help by getting involved in talks for A.J. Burnett in the winter.
Blanton now is out to reestablish himself as a quality major-league starter. Expectations for the 31-year old were low entering the season, with many considering him an afterthought amongst the likes of Roy Halladay, Cliff Lee, Cole Hamels, and Vance Worley. With his gem tonight, he reminded everyone that he too is capable of pitching very well. If he can sustain this level of play, it will go a long way towards securing another division title for the Phillies.