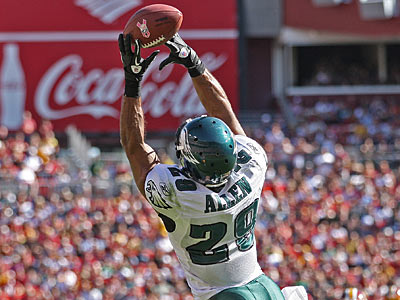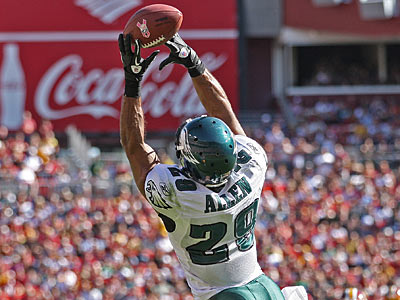 I've talked numerous times about the importance of this off season for Michael Vick, but this is also a very important off season for other Philadelphia Eagles players.   For instance, young safeties Nate Allen and Jaiquawn Jarrett should be living at the Nova Care Complex with Vick.
Allen must start recognizing pass patterns a split second sooner.  He should never make the mistake again of breaking up toward the line of scrimmage on a dive fake and giving up an easy touchdown on a deep throw like he did against the New England Patriots.
I could see Allen being able to pick off six to nine passes this year and in future years, if he comes back with the knee totally healthy and a better understanding of the Eagles coverages and the way teams are going to attack them.  I've seen him break on the ball at times during practice and in the games where I'm very impressed.  He's got the potential to be a big play guy when it comes to intercepting passes because he's got good speed and quickness along with the ability to play the ball in the air at its highest point.  This is an extremely important time for him.
Last year I saw a slight hesitancy in his game that must vanish if he's going to be the player, the Eagles envisioned being.  Football is a split-second game and a player can't afford to hesitate at all.  Allen has to eliminate all hesitancy from his game.
If you watch the great safeties in the game like, Pittsburgh's Troy Polamalu and Baltimore's Ed Reed.  They attack plays rather than vice-versa.  They recognize and pounce like a lion in the jungle.  Allen must believe what he sees during each play then attack it.  At the same time he must remember, a safety can't have that mentality on plays when he's covering the deep third.
The name safety says a lot about the position.
Jarrett was even farther away from being up to speed a year ago.  He doesn't have good speed to begin with and he was lost back there in the secondary.  I was expecting to see his outstanding and sure tackling but we saw a guy lost on an island.  If I were in the Eagles front office I would be concerned about what I saw a year ago from Jarrett.
If he puts in the time, and makes great progress maybe he makes the big jump, but Jarrett couldn't play back there a year ago.  Think about it, as bad as they were at the safety position a year ago, they couldn't afford to put him on the field.  To put it honestly, the youngster didn't look like he belonged in the NFL a year ago.
The other safety in the rotation is Kurt Coleman, who happens to get the most out of his ability.  He doesn't have great size or speed, but he does have the savvy of a good safety.  He recognizes formations, reads quarterbacks and will try to pound receivers and running backs.
I doubt that the Eagles do anything at the safety position before the fourth round, but they can't help but think about improving this position during this year's draft.