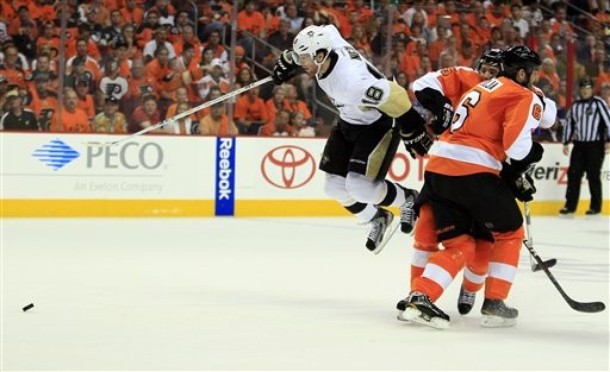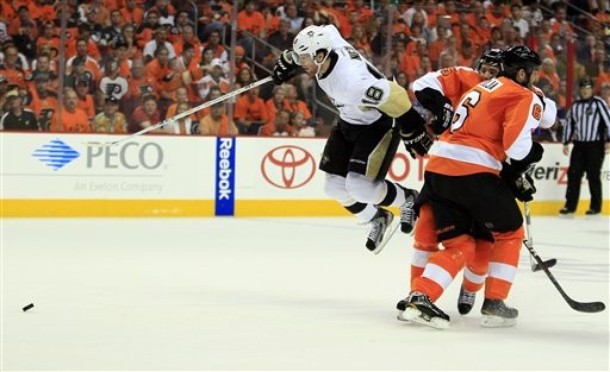 It only took about 52 hours, but as first reported by Dave Molinari of the Pittsburgh Post Gazette, Arron Asham has been suspended four games while James Neal has been suspended one game following the incidents that occurred in Sunday afternoon's 8-4 win for the Philadelphia Flyers against the Pittsburgh Penguins.
From the Neal suspension video:
"At 14:34 of the third period, Neal collided with Philadelphia forward Sean Couturier. Later on the same shift, Neal was penalized for charging Philadelphia forward Claude Giroux. As the video shows, on the first play, after Couturier loses the puck to Pittsburgh forward Chris Kunitz, Neal curls back to transition from defense to offense. In doing so, he leaps and crashes into Couturier, who does not see him coming.
While we are willing to accept Neal's assertion that on this play, he jumped to brace himself for an unintended collision (editor's note: Really???), the fact that 42 seconds later, he once again launches prior to making contact with Giroux is not acceptable.
As the video shows, Giroux receives a pass on the right face-off circle and is preparing to make a play as Neal races back to defend. Just after Giroux releases a pass, Neal arrives in position to deliver a body check. However, Neal leaps into the air, and hits Giroux in the back and head area. The hit dazes Giroux who, while attempting to adjust his helmet, loses his balance and falls to the ice before he skates directly to the bench…
We have taken into consideration that although he appeared to have been shaken up, Giroux suffered no apparent injury on the play."
From the Asham suspension video:
"At 14:15 of the first period, Pittsburgh forward Arron Asham was assessed a match penalty for attempting to injure Philadelphia forward  Brayden Schenn with a cross-check. As the video shows, Schenn delivers a hard hit along the near boards to a Pittsburgh defenseman that is penalized as chargin.
Reacting to his teammate being hit, Asham skates directly towards Schenn from the middle of the ice and intentionally cross-checks him high, and with force. When Schenn falls to the ice, Asham then punches the defenseless player in the back of the head…
Despite how it appears from certain camera angles, Asham's stick never actually makes contact with Schenn's face. However, the violent, vengeful nature of the high cross-check is unacceptable.
We have taken into consideration that Schenn escaped serious injury as a result of these hits. It is also important to note that although he  is a physical player, Asham has never been fined or suspended during his thirteen season NHL career."
My two cents:
While the length of each suspension sounds about right, it is disturbing that NHL head disciplinarian Brendan Shanahan takes into account whether a player is injured as a result of an illegal hit. In Game Three of the Chicago Blackhawks-Phoenix Coyotes series Tuesday evening, Coyotes forward Raffi Torres laid a nearly identical hit to Neal's on Couturier against Blackhawks forward Marian Hossa.
Unlike Sean, Marian wasn't so lucky.
Hossa had to be carried out of the building barely conscious and on a stretcher. Inexplicably, Torres was not assessed a penalty for the hit much like Neal went unpenalized against Couturier.
So one game for Torres based on this precedence?
The other argument to be made about the absurdity of this line of thinking is that, with head injuries, symptoms don't always appear immediately after contact. For all we know, Couturier and Giroux could be game-time decisions in Game Four because of feeling dizzy when they wake up on Wednesday.
As suggested earlier, it seems very naive for Shanahan to say he is willing to accept that Neal's hit on Couturier was an accident but the hit on Giroux is illegal. How often does a player make a violent hit against an opponent accidentally, and then follow up with the same hit on the same shift on purpose before bee-lining for the bench to avoid retribution?
At any rate, Neal, Asham and Adams are out for Wednesday's Game Four. Most likely Steve MacIntyre, Eric Tangradi and Dustin Jeffrey will be in the line-up for Pittsburgh.
It would be wise for the Flyers to not take this game lightly, as the Penguins are still very dangerous with these replacements. They need to end this series decisively before Neal, and any Penguins' momentum, can return.
For the latest Flyers news and updates, you can follow me on twitter (@JoshJanet).