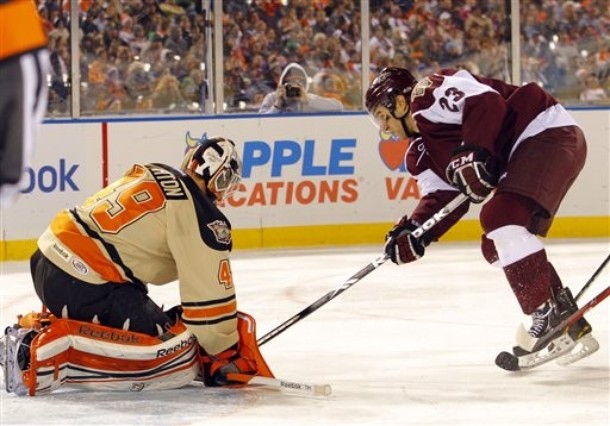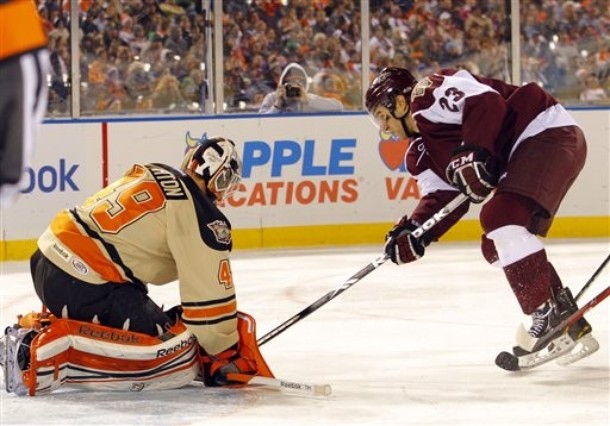 The Adirondack Phantoms' 2011-12 AHL season ended before their final game of the year, as they were eliminated from contention when the Manchester Monarchs beat the Hershey Bears (who couldn't win when we needed them to, apparently) last Saturday. As such, the Phantoms announced today that nine players had been recalled by the Flyers as part of this year's "Black Aces" group.
As a quick reminder, the Black Aces are reserve players eligible for the NHL playoffs that train with their respective team in the postseason. While the roster limit is set at 23 players during the regular season, there is no limit during the playoffs. The name itself is a reference to the dead man's hand of black aces and eights, and was originally ascribed to players who had fallen out of favor with upper management.
This year's forwards consists of:
Left Wing Tye McGinn,  6′-3″, 12 goals, 18 points and 45 PIM in 63 games played.
Center Tyler Brown, 6′-0″, 8 goals, 17 points and 28 PIM in 71 games played.
Left Wing Harry Zolnierczyk, 5′-11″, 8 goals, 21 points and 37 PIM in 39 games played.
Center Ben Holmstrom, 6′-1″, 15 goals, 41 points in and 134 PIM in 67 games played.
Right Wing Matt Ford,  6′-1″, 29 goals, 59 points and 78 PIM in 70 games played.
Zolnierczyk, Holmstrom, and Ford were to be expected. The former two have previously played with the Flyers while Ford was the best Phantom forward since he was acquired from Hershey. McGinn is a player who the team drafted in 2010 that they have high expectations for due to his size and relative success in the QMJHL. He had a quiet first season with the Phantoms, but is still on their radar.
Brown, though, is a bit of a surprise. He was signed at the same time last year as Jason Akeson, who had a great season with the Phantoms and ranked 2nd on the team in scoring with 14 goals and 55 points. Akeson, though, has been sent home. You have to wonder what the organization is thinking there, or what information about them hasn't been made to the general public.
Not so surprising is the lack of forward Mike Testwuide. Cited by the organization as a player they hoped would be the next "Mike Knuble" when they signed him out of Colorado College, Testwuide didn't break out until the latter half of his rookie season with the Phantoms, by which point the team was already unlikely to make the playoffs. He followed it up with an average second year and appears to have been passed on the depth chart. His contract expires this summer and it's questionable if the Flyers organization brings him back for a third year.
This year's Black Aces defensemen include Erik Gustafsson, Brandon "Manndog" Manning and Oliver Lauridsen. Gustafsson is the most likely to see playing time even without an injury on the blue line, but Manning provides some insurance. Lauridsen is a 6′-6″ defenseman that is still ironing out his game at the AHL level, but there are hopes that he can develop into a hulking defensive defenseman.
The team also recalled goaltender Michael Leighton, who cleared re-entry waivers this afternoon, according to TSN's Bob McKenzie.
For the latest Flyers news and updates, you can follow me on twitter (@JoshJanet).