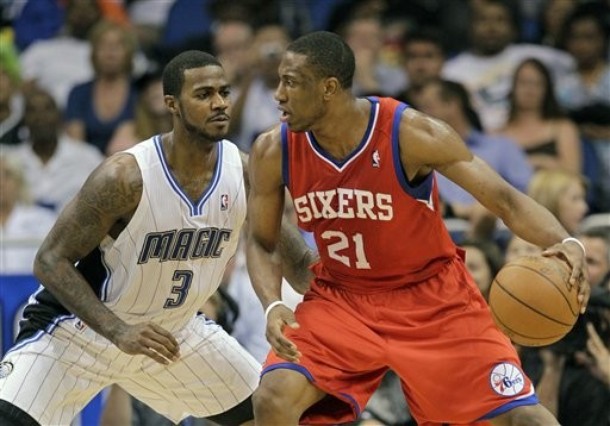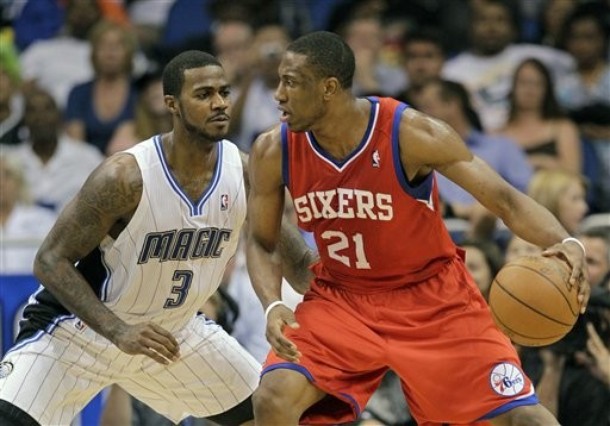 Why do I still love the Sixers? It's funny I am watching the past two Flyers game in which they might have been the most entertaining games ever. The whole time sitting there the damn Sixers kept on popping into my head. I kept saying to myself what the hell is wrong with me. When it comes down to it I guess I can't help myself.
What happened to this season? Were the Sixers overrated early on? Do they actually have young talent that they can build around? Have they finally tuned out Doug's hard style of coaching? I say all the above.
I will be the first one to tell you this season has gone completely different than I ever thought it would. I thought this was the season where Turner, Holiday and Thad take charge of this team and grow together, they where the ones that were going to lead us to victories not Lou, Iggy or Brand. That is the way it should of went down but obviously it has not. All are to blame and some more than others.
Let me start with Holiday, for not staying aggressive enough on the offensive end, not working to get through the picks better on the defensive side and not demanding the ball. Yes, I know that might sound weird. If you watch the Sixers you will see that Holiday usually will have a solid first quarter controlling the ball. Then after that Iggy and Lou will dominate the ball a lot the rest of the game.
Doug has to take blame for that as well. You are trying to groom a young point guard. You already know what Iggy and Lou are as players. By the way, can we please stop this love for Lou? He is not a number one scorer. I know he leads this team in scoring but that is all Doug has him do is just jack shots up. Lou hurts this team more than he helps them right now. He is a nice 6th man but I do not think he fits here anymore. Once he gets the ball forget about it. Pound city.
Evan, is a total different story. He seems to bitch and complain a lot when he is out there and when he is taken out of games. He needs to man up and just go out and play. That is where the other story begins. Doug has the quickest hook with him out of any player on this team. At times Evan has deserved it and at times he does not. They both need to swallow their pride. Not sure if that will ever happen.
Jodie Meeks is Collins love child. He has to be. Why else is he starting and getting the run he gets? Vuc seems to have some skill and I am glad that Doug went back to playing him. He buried him on the bench for some odd reason. Wait! I take that back. Vuc did not play at all last night. SMH.
Well, I guess you can say he sat for Spencer Hawes. In which makes no sense to me. So that first month of the season was a mirage I guess. Hawes seems to be a little soft at times down low. Maybe he is still hurt? Who knows? Hawes is in a perfect place right now. Coming off the bench. He is solid back up center. The thing is that there are not many solid big men in the league, so he will likely have a starting job for a long time some where. I can not dog Thad. He gives you everything he has out there every night even if struggles offensively.Remember when they started 20-9 and the city was buzzing about them? That seems like that was a decade ago. They have gone 11-20 since that start, from first place in the division to maybe not making the playoffs. I am so frustrated with this team. I have always said that this year was about growth and there has not been any. This really seems like a lost season. They have 6 games left in the regular season. Am I going to watch them? Unfortunately, I will because I am a complete jackass. I will also be attending the last home game tonight against the Pacers. What?!