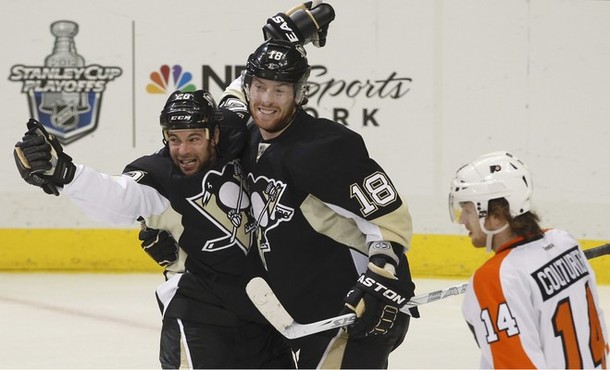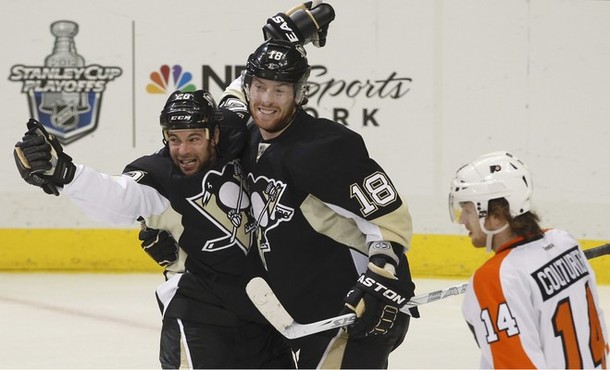 The Flyers returned to Pittsburgh for Game Five of the Stanley Cup Quarterfinals after failing to take Game Four seriously. Their efforts in Game Five showed vast improvement, but their team defense failed on two key moments that ultimately cost them the game.
Shutdown defenseman Nicklas Grossmann was out of the line-up due to a concussion caused by a dirty elbow from Evgeni Malkin behind the play. Malkin continued to take shots at the Flyers throughout the game, earning penalties for a handful but escaping with a few questionable hits as well. It got to the point where every broadcaster except Pierre McGuire was suggesting he's headed for a suspension if he keeps it up.
James van Riemsdyk made his playoff debut in place of Zac Rinaldo, but was limited to 7:31 of ice time. JVR did not participate in the morning skate and was a game-time decision, but he was much less of a liability on the ice than Rinaldo. His conditioning will take some time to improve following seven weeks away from the rink.
Some might argue that Pittsburgh goaltender Marc-Andre Fleury has "stepped up his game," but the defense for the Penguins stepped up their efforts considerably as well from previous performances, having blocked 18 shots and forcing 14 wide compared to the 18 shots total prevented by the Flyers.
Coach Peter Laviolette double-shifted Matt Carle and Braydon Coburn, who each skated more than 29 minutes of the game. Andreas Lilja and Erik Gustafsson played 7:09 and 11:51, respectively. For as much vitriol as there is for Carle in this city, he performed very well with the ice time given and scored one of the two Flyers' goals.
Of the three Pittsburgh goals scored against, goaltender Ilya Bryzgalov was left somewhat out to dry on the latter two. The second goal began as a long outlet pass from Kris Letang, with Pavel Kubina as the only defenseman at the blue line for an odd-man rush. Had Bryzgalov challenged the shooter and kept his glove up, he may have had a chance, but Jordan Staal buried it instead.
On the third goal, Wayne Simmonds skated into the defensive zone after a lengthy shift and didn't appear to have enough energy to cover Tyler Kennedy on a rush. He ended up handcuffing Bryzgalov with a screen in front.
The Flyers dominated in the third period, but by that point the officials were comfortable enough with the physicality of play that they decided to let each team play in lieu of calling every penalty. Pittsburgh managed to sneak away with numerous infractions, but the officials can't be blamed for the Flyers' failure to score at even strength.
Game Six returns to Philadelphia for a 1:00 p.m. puck drop. The Flyers have just two more chances to clear the first round; the sooner they make it out, the less likely they will lose more players to Pittsburgh thuggery.
For the latest Flyers news and updates, you can follow me on twitter (@JoshJanet).