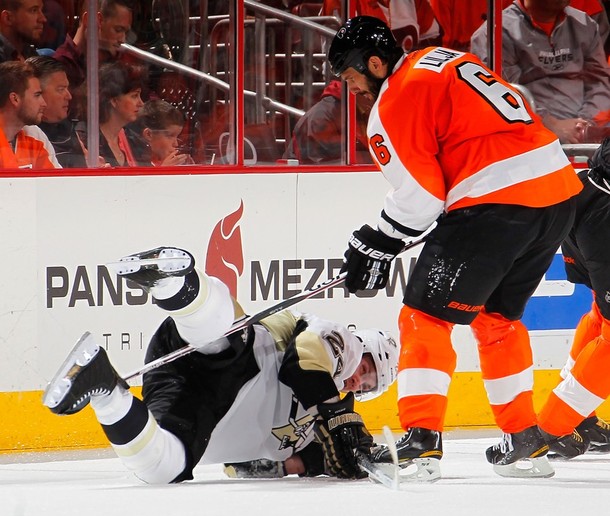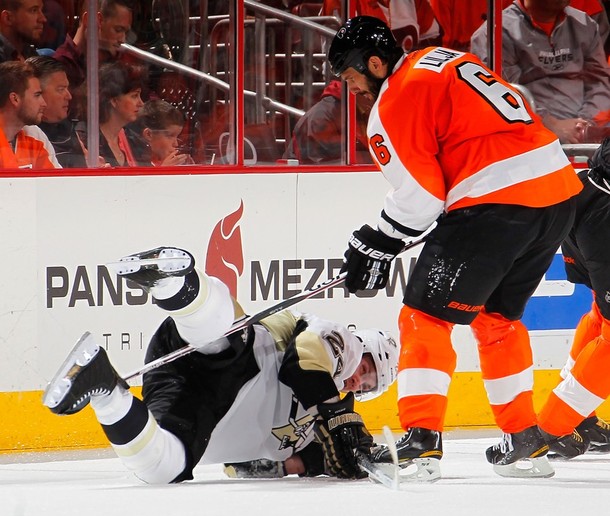 Game Six of the Stanley Cup Quarterfinals featured one of the best defensive performances from the 2011-12 Philadelphia Flyers.
This followed five games in which the team allowed three or more goals per game and ranked 15th of 16 teams in goals-per-game (guess which team ranked 16th?)
In order to continue to have success in the 2012 NHL playoffs, the Flyers are going to have to recreate Sunday's efforts on a game-to-game basis. Just how well did the defense perform and what can we expect moving forward (keeping in mind the first round isn't over for everyone else)?
Braydon Coburn and Matt Carle led all Flyers defenseman in average time on ice, logging in 27:49 and 25:12, respectively. They are going to be eating a ton of minutes moving ahead, and the Flyers will need to monitor their minutes to ensure that they don't run into a situation like in the 2010 Finals, when the top four simply ran out of gas.
Coburn and Carle each earned 4 points in the first round. Only Kris Letang had more points than those two.
Carle led all defensemen in giveaways with 9, while Coburn and Erik Gustafsson had 5 and 4, respectively.  Giveaways can be a relatively subjective real-time statistic, but as everyone here is aware, Carle doesn't always make the best first passes. If he's playing 27:00+ minutes per game, though, he will need to improve in this area.
Coburn ranked 9th among defensemen in hits with 17. No other Flyer ranked in the top 45. Nicklas Grossmann finished with 9 hits in the 4 games he played. The defense could improve as a group in playing a more physical game, and that starts with getting Grossmann back in the line-up.
Grossmann skated with the Flyers at the practice before Game Five, but I would suspect the organization will keep him off the table unless the team struggles after two games.
Kimmo Timonen averaged 18:38 of ice time, but the actual time dropped in the last two games. His back is still bothering him and may be the reason his average ice time dropped from over 24:00 in the last two years of playoffs.
The Flyers' defensive core were shot-blocking machines. Andreas Lilja ranked 5th in the NHL among defensemen with 19 blocked shots, while Carle (15; 10th), Coburn (12; 12th) and Grossmann (12; 16th) finished in the top 20.
Erik Gustafsson averaged 17:00 of ice time in 2 games played. He appeared to struggle late in the regular season before being sent down to the Adirondack Phantoms, but that may have been because he was partnered with Pavel Kubina, who averaged 10:34 in 5 games played. Expect Gus to see much more ice time as they ease Timonen's minutes while Kubina will be used sparingly.
Give Lilja a ton of credit. He wasn't the best defenseman on the ice for either team, but he was dialed in through all six games and also helped eat up decent minutes.
There has been no status update on Marc-Andre Bourdon, but logic dictates he will not likely be back for the rest of the playoffs. He has not practiced with the team as he deals with an upper body injury that may very well be another concussion.
Tim Panaccio of CSNPhilly reported via twitter on Friday that his sources suggest Andrej Meszaros is still "three weeks away." Unless the Flyers are facing elimination, he will not likely be back until the Conference Finals .
Brandon Manning participated in the pre-game skate before Game Six, but was a late healthy scratch. If Kubina becomes a liability in Round Two, Peter Laviolette won't hesitate to put "Manndog" on the roster.
Once a few more series wrap up and the Flyers' next opponents become finalized, I will take a "by the numbers" look at their teams as well.
For the latest Flyers news and updates, you can follow me on twitter (@JoshJanet).