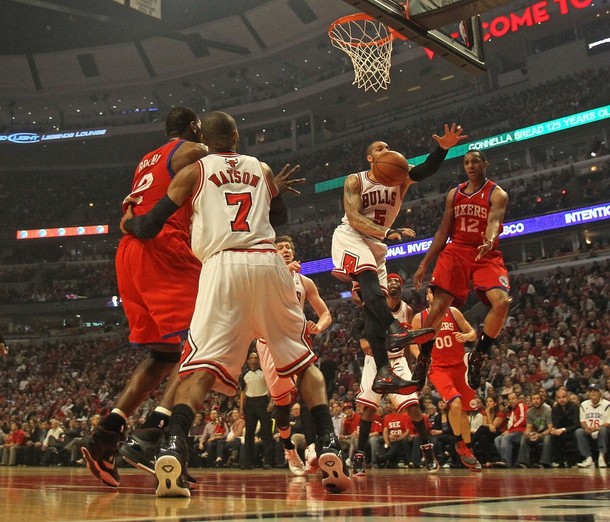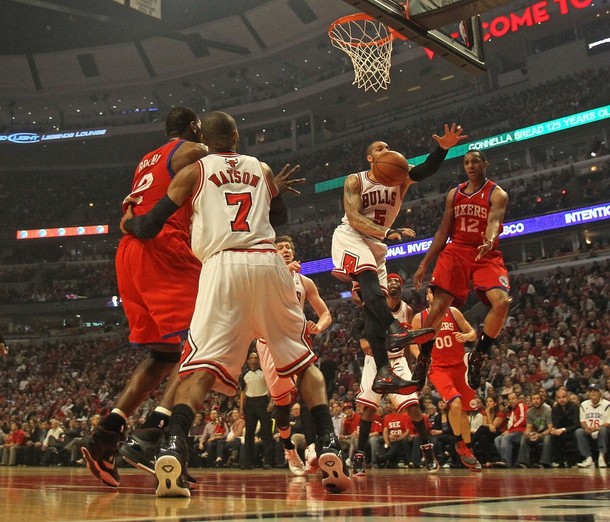 This has been of hell of ride the Sixers have put us on this year straight out of 'Great Adventure". On a night where the Phils decide to blow 4 run lead and where the Flyers get knocked by their old arch-nemesis's and the Sixers decide to play one of the ugliest playoff games ever. Well, at least offensively and maybe in the history of the playoffs.
When you look at it the Bulls really we're not much better. The Sixers only put up 26 points at the half. The Bulls only had 35 points. The Bulls did hold the Sixers to 32% shooting while the Sixers held them to 40%.The Bulls made off balance shots all night long. I mean, Loul Deng made three or four of them from down town off of one leg. Boozer even got into the act with a couple of bankers that I know for sure that he did not call. Other than Game 2 this series has been ugly as hell. Man, when Iggy is jacking up 19 shots you know something is not right.
So is it just really bad offense or great defense? It could be a little of both. I like to think it is defense. Man, are they really getting after it. That is one thing we all can agree on is that they are defending the hell out of each other. Since game 2 the Sixers have shot higher than 40% just once, same for the Bulls.
This has become a dog fight. The referees are to blame for a lot of that. They have put the whistles away for both teams for a lot of this series. At times the only way you are going to get a call going to the hoop is if you get punched in the face. Game 5 was the example of that. Both teams where getting mugged out there with the refs standing around watching.
The one thing I do enjoy is watching Tom Thibodeau freak out on almost every play. That dudes cries about every little thing out their even more than Iverson did.  You know who else bothers me? Rip Hamilton. Man, that guy never stops bitching.  He is dirty as hell out there.
Hey man, I know this has been an ugly series and Derrick Rose not playing kills some luster of victories but I will take. The Sixers have not won a first round matchup since 2003. I can only hope that the Sixers can close it out tonight. Noah will likely be back I would think. If there is a Game 7 all the momentum would be on the Bulls side. How awesome would it be to see the Sixers take on the Celtics if the Celtics can close out the Hawks as well. That would be fun as hell. The key for the Sixers to close out is Turner/Holiday. When they have played well the Sixers have won. Here's wishing…