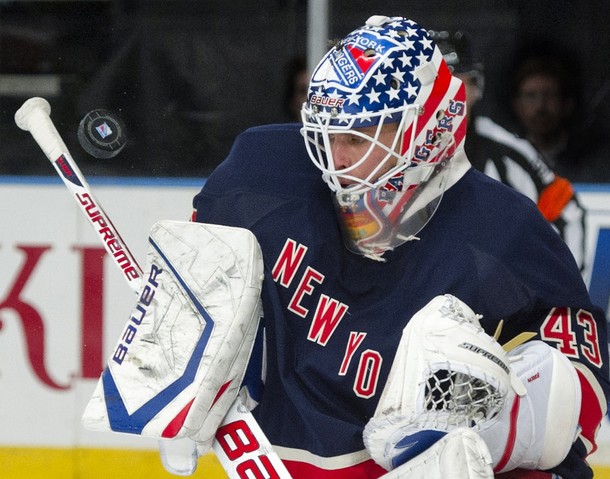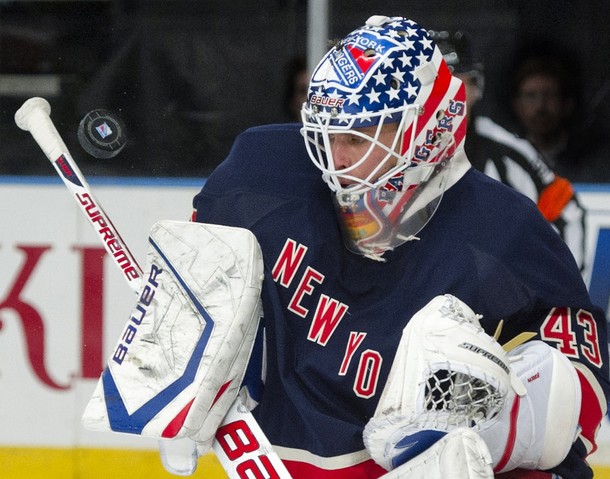 Tim Panaccio of CSNPhilly got the ball rolling on offseason suggestions for the Philadelphia Flyers yesterday and set off some discussions about the back-up goaltender position.
"[Bobrovsky] has one year left on his contract and it would behoove the club to find an accomplished back-up ala Brian Boucher's pedigree, who can function better with long periods of inactivity," wrote Panaccio. "Someone like Scott Clemmensen in Florida, who is used to the back-up role and will be unrestricted this summer."
It's a fair sentiment, and one that I wrote about at length in March. In summation, Sergei Bobrovsky has a lot of potential and is a great teammate, but he isn't suited for a back-up position at this point in his career.
I took the time to cherry-pick the list of available unrestricted free agent goaltenders that the Flyers could sign as a back-up to Ilya Bryzgalov if they chose to move Bobrovsky. Below is the list with age and post-lockout (i.e. 2005-06 and beyond) goals-against average (GAA) and save percentage (SPT) statistics.
Sergei Bobrovsky, 24:           2.73 GAA             0.909 SPT
Ilya Bryzgalov, 32:                 2.53 GAA             0.915 SPT
Josh Harding, 28:                 2.65 GAA             0.916 SPT
Al Montoya, 28:                     2.76 GAA             0.906 SPT
Antero Niittymaki, 32:         2.98 GAA             0.902 SPT
Scott Clemmensen, 35:        2.69 GAA             0.909 SPT
Martin Biron, 35:                    2.76 GAA             0.910 SPT
Tomas Vokoun, 36:              2.56 GAA             0.921 SPT
Chris Mason, 36 :                  2.64 GAA             0.910 SPT
Marty Turco, 37:                    2.58 GAA             0.904 SPT
An easy place to start is save percentage. Generally speaking, consistently good goaltenders perform above 0.915. Henrik Lundqvist and Jonathan Quick, arguably the two best goaltenders remaining in the 2012 Stanley Cup playoffs, have records of 0.920 and 0.916, respectively. The last three goaltenders to win the Stanley Cup- Tim Thomas, Antti Niemi, and Marc-Andre Fleury- have records of 0.922, 0.916 and 0.910, respectively.
For a back-up goaltender, I wouldn't dip lower than a 0.909 SPT. Anything can happen year-to-year (Brian Elliott, anyone?), but career statistics, especially for older players, suggest what they're capable of in any given season.
Two goaltenders I would immediately toss from the remaining list are Vokoun and Harding. Neither fits the role of a back-up for what Philadelphia (and Bryzgalov, for that matter) needs.
Vokoun still has ambitions of being a starting goaltender, whether it is in the NHL or the KHL. Per his agent Allan Walsh via twitter, "Tomas Vokoun has made no decisions on signing a KHL contract with Lokomotiv. We've had discussions. Tomas Vokoun prefers to stay in the NHL next season and we are taking steps in furtherance of that goal… He believes he can still be a dominant NHL goalie."
Harding, meanwhile, is likely too valuable of a player on the market to take a pay cut in the back-up position.  He has more experience than Bobrovsky, but as a teammate, he would serve in the same exact role- a consummate professional, but hoping to take over the starting position in the not-so-distant future.
That leaves Scott Clemmensen, Chris Mason and Marty Biron. All three have shown in recent years that they are very good at serving in the back-up role and can come in cold after long stretches of bench-warming. Any one of them would be a safe bet on the roster.
Biron, though, is the best choice.
Bryzgalov may now "understand" what it takes to succeed in Philadelphia, but he could use a stabilizing partner to encourage him in the future when adversity strikes.
Of the three suggestions, only Biron has been in his position in this city before. Traded from the Buffalo Sabres in 2007, the Flyers are the only team to give him a shot at the starting position over the course of his career. In Buffalo, he had to wait his turn behind Dominik Hasek, only to be lapped by Ryan "Mass Murder" Miller on the depth chart.
In Philadelphia, Biron led the team to playoff berths in 2008 and 2009, each time losing to the Pittsburgh Penguins. He may have remained a Flyer if his agent didn't demand too much money; instead, he had to scramble to find a back-up position with the New York Islanders while Paul Holmgren rolled the dice with Ray Emery.
Biron was knocked as a guy who couldn't steal a game when it counted, but that wasn't a fair assessment of what he was capable of with a good team in front of him. He also has a famously jovial and engaging personality that would (in theory) be a perfect compliment to Bryzgalov's sense of humor.
Think of it as the goaltending version of a "big brother-little brother" program.
Biron is currently serving as back-up for Henrik Lundqvist as the New York Rangers continue their run for the Stanley Cup, but there's no guarantee that they will want to keep him for another year. With capable goaltenders Chad Johnson and Cameron Talbot in the AHL, Biron may have to leave just to clear the log jam.
If there's any organization that loves giving their goaltenders second chances, it's the Philadelphia Flyers. In this case, it just makes too much sense not to consider it.
For the latest Flyers news and updates, you can follow me on twitter (@JoshJanet).
Editor's Note: Elliotte Friedman suggested in his most recent "30 Thoughts" column that Martin Biron should also be considered again by the Flyers. An unfinished draft of this post was in progress when his column was published earlier today. I will link to his post once the link works again (as of this writing, this link isn't working).