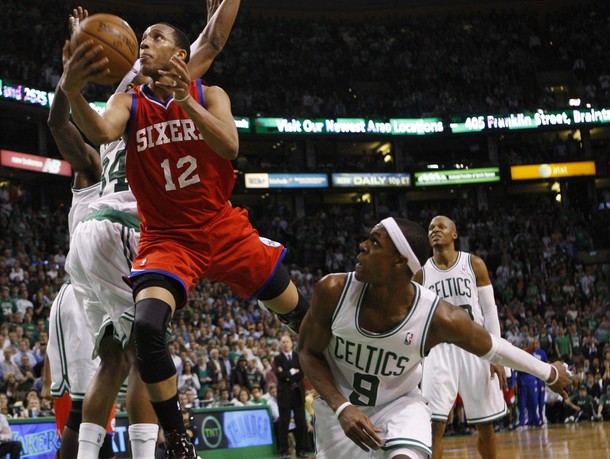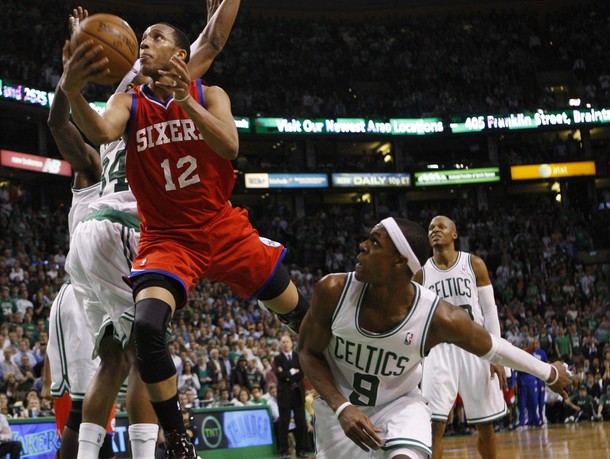 This Sixers team, l swear, they would give me acid-reflux if I did not already have it. Their games are ugly as hell but the endings are the complete opposite. This is starting to become a trend for this team. Ugly but they get the job done. I will take it.
As well them starting up my reflux, there are plenty of times where I want throw my remote through the TV because of them missing shot after shot especially in that third quarter. The one thing that turned out good obviously, is that Boston could not score either.That is one thing the Sixers could count on all year, and in the playoffs, is their defense. It was outstanding last night. Iggy held Pierce to just 7 points. Pierce was a non-factor all night long. Rondo still had a decent game but Turner and Holiday did a better job of keeping him out of the lane.
Get ready…Here it comes…..Lavoy Allen. The 'rook' was flat-out awesome last night both offensively and defensively. He held Garnett to 12 points and made him work for everyone of those points. Garnett actually had 15 points but that BS three-pointer at the end does not count in my book. Garnett  was running his mouth from the opening tip and he got contained by a second-round pick. I love it.. One thing that surprised the hell out of me was that they actually called that moving pick on him at the end. It was the right call but you never actually see that called at the end, especially on a  player like Garnett.It was Allen's bucket, or you can say lucky-as-hell shot, with .9 left on the shot clock in the fourth with the game tied that seemed to give the Sixers a lift. Then you had my boy Turner, who was having probably the worst game I have ever seen him play hit a crazy runner in the lane. Yes, he walked and yes, he was fouled. Then Bradley of the Celtics knocked down a huge three in the corner. That is one tough dude. His shoulder just popped out two quarters prior.
He was answered by Jrue's three ball and him blowing a kiss to the Celtics fans. Awesome. Then "Jesus Shuttlesworth" himself, Ray Allen buries three. Sixers remained calm.  With 40 seconds left Turner went strong to the basket and made a very tough lay-up. Sixers never trailed again. Turner, Lou and Meeks finished off the Celtics by  knocking down all 6 foul shots. The Sixers actually scored on 8 of their last 9 possessions.This team is ugly at times, frustrating, and high-flying. What has been constantly on display in the playoffs is their heart and toughness. I will be the first one to tell you at the end of the season I really did not know if it was worth them even making the playoffs. I truly believe it was worth it now.
They are growing in the playoffs and there is no better place to do it. Jrue, Turner and Allen are leading the way mostly. That is a good sign all three are 23 years old or younger, and performing at the highest level you can. Iggy has been good through out the playoffs as well. The one thing is for sure the "Mighty Celtics" are in for a battle and they know it…