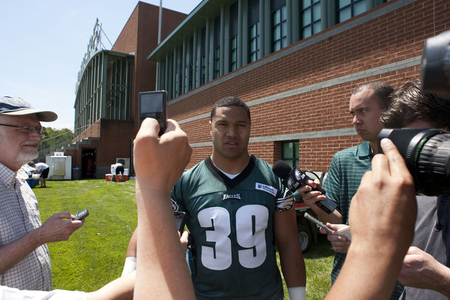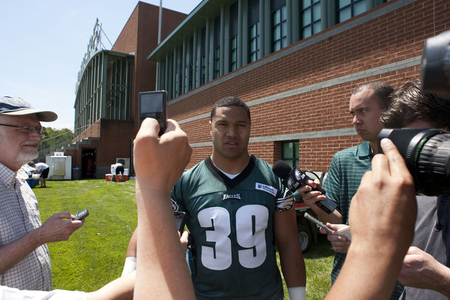 Get used to hearing the name of second-year fullback Stanley Havili because there's a good chance he'll be starting for the Birds this season.
I could see immediately when I took a close look at the Eagles on the field for this past weekend's rookie mini-camp that Havili had been working hard this off season.  He looked much bigger and stronger.  The youngster looks like he has added 10-15 pounds in his arms, chest and legs.
Number 39 has very good speed for a fullback and he has the ability to catch the football.  It's no secret that Eagles head coach Andy Reid would like to have fullback with the capabilities of Leonard Weaver who was forced to retire due to a severe knee injury.
When asked by the gathered media whether Havili was the starting fullback, Reid said, "Yes".
Like former Eagles running back Leonard Weaver, Havili has the ability to make things happen as a runner and pass receiver, so he comes into camp as the guy to beat in the fullback competition.  During his college years at USC, he was quite a weapon both as a runner and a pass receiver.  Reid and his coaches know what Havili is capable of.
Rookie free agents Emi Igwenagu and Jeremy Stewart are his competition at the position.
He's got a great chance to be another weapon in what could be an outstanding offense and that's quite a promotion for Havili, who spent the entire 2011 season on the practice squad.
Last year's fullback Owen Schmitt Reid wasn't much of a ball carrier or pass catcher, so Reid and offensive coordinator Marty Mornhinweg are looking to improve the offense in that area.  They want the type of fullback which Havilli was in college.  Weaver was such a good ball carrier that he was looked on as a backup running back, Havili has that potential.
In his first year, Havili had trouble blocking all the big NFL players linebackers and defensive linemen.  Now with his additional size, he should be able to do the job a lot easier.
"I'm just ready to compete. I think my biggest mindset coming in to come in and show them that I can actually block," Havili told PhiladelphiaEagles.com. "I'm just ready to come out and show them what I can do and how I can excel in this offense."