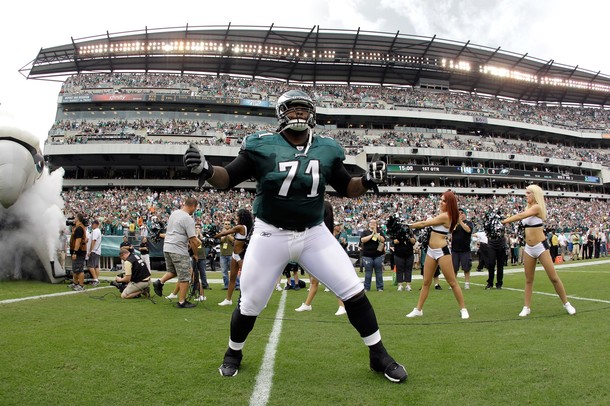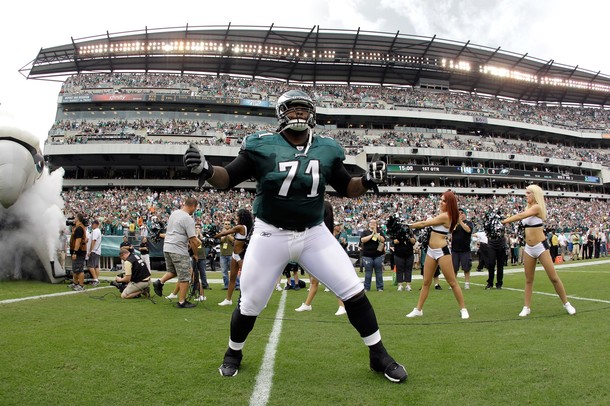 I'm sure you've heard about Eagles Pro Bowl left tackle Jason Peters re-repturing his Achilles tendon.  Not only will this injury delay Peters recovery for three weeks, it could also threaten his career.
Jeff McLane of Philly.com quotes a foot and ankle specialist about the trouble Peters could encounter due to the second injury.
"It's going to make the road to recovery that much more difficult," said Phillip Kwong, a foot and ankle surgeon at Kerlan-Jobe Orthopedic Clinic in Los Angeles. "It's not as clear-cut as the first time. Whatever he had the first time he's added another obstacle."
The Eagles were holding out hope that Peters would be able to return to action late in the season, but there's little to no chance of that happening any more.
Derrick Gunn of Comcast Sportsnet was the first to report this incident.   Peters' Roll-A-Bout vehicle, which is a substitute for crutches, malfunctioned and it caused Peters to tear the tendon again.  The Pro Bowler, whom many believe is the best in the NFL, was doing something in his kitchen when this incident occurred.
It was March 27th when Peters had the initial injury.  Now he must start his rehabilitation again and he plans on suing the company that makes the Roll-A-Bout device.  That company had better hope that Peters recovers and plays again.  If he doesn't Peters will be making just as much money from them.