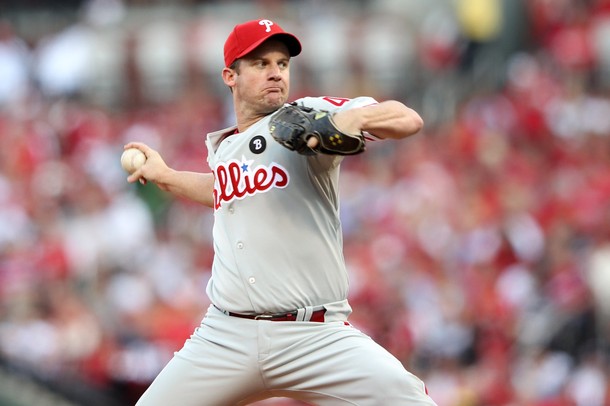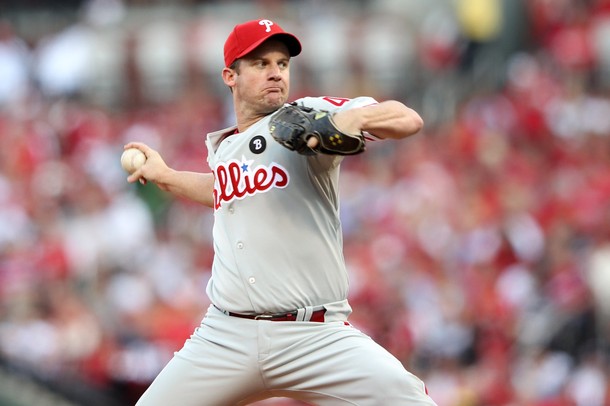 More than a month into the regular season, former Phillie Roy Oswalt has yet to sign on with a team for the 2012 season. The righthander couldn't find a new home in the offseason because his salary demands were too high, and he was very picky about his destinations, publicly announcing that he only had serious interest in joining the St. Louis Cardinals or Texas Rangers; with neither of those two teams particularly interested in shelling out a great deal of cash for the veteran's services.
Oswalt eventually decided that he would take the first part of the season off, and join a World Series Contender in the middle of the summer. He has begun to workout and throw bullpen sessions for any interested teams, one of which is the Phillies. Ruben Amaro sent a scout to watch the former Astro throw last week, and all indications were that Oswalt is in good shape.
But just how seriously interested are the Phillies in bringing back their former fourth ace? Amaro has already seen both Cliff Lee and Vance Worley spend time on the disabled list this season, with the severity of Worley's elbow inflammation unclear at this point. When he spoke to the media this week, he implied that he was interested in adding another capable arm to his rotation.
"Depth is an issue for us," he said Amaro. "I think it is for a lot of clubs, but depth is an issue, and if we've got to reach down and grab somebody else if somebody else goes down, we'll have to get somebody who's pitching as well … and make that assessment of who that guy is."
If Roy Oswalt is healthy and capable of performing close to the level he was at when the Phillies first acquired him in 2010, he would be an excellent addition to any rotation. But I just can't see the Phillies going back to Oswalt unless they were to shed one of the arms already on the staff.
I think for Oswalt to return to Philadelphia, the Phillies would have to trade Joe Blanton first. The idea of trading Blanton is much more realistic now than it was in spring training, the fifth starter is pitching like an ace with a 4-3 record and a 2.96 ERA in seven starts. Whether the Phillies will be buyers or sellers at the deadline, Blanton could be a very attractive commodity that Amaro could be able to flip to another team to help satisfy one of the Phils' other needs. With Blanton (and his salary of $8 million) gone, Amaro would have room in his rotation and his payroll for Oswalt.
We're still a couple of weeks away before Oswalt will begin to come close to a decision about where he wants to pitch this season, and we may be even further away from the Phillies deciding if they seriously want to pursue the righthander. Right now, they're just doing their due diligence. Ruben Amaro Jr. has proven many times in his first four years as general manager that he constantly thinks big, and can be very creative when looking for ways to improve his team.
Even though an Oswalt return might be a longshot, ever since Amaro managed to fly under the radar and snatch Cliff Lee away from the Yankees and Rangers, you can't rule anything out.