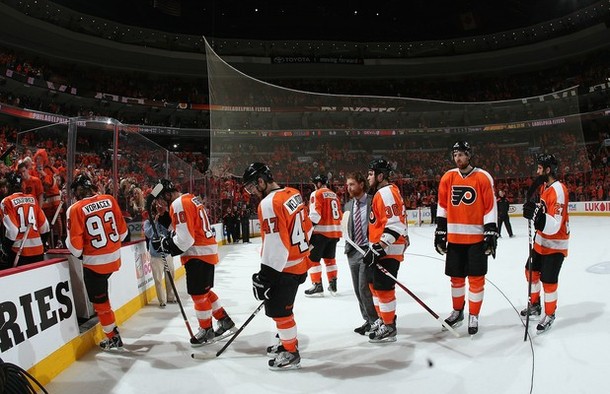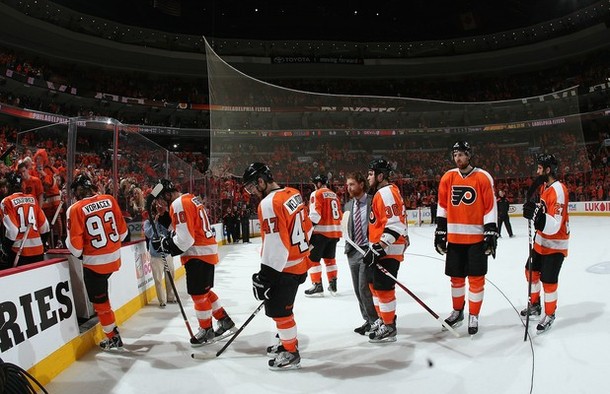 The Philadelphia Flyers released on Saturday morning a list of players who are in need of offseason surgery.
Claude Giroux – torn cartilage in right wrist and bone spurs in left wrist
Wayne Simmonds – broken index finger
Matt Carle – torn stomach muscle
Kimmo Timonen – disc fragment in lower back
James van Riemsdyk – torn hip labrum
It is unknown at this point if this is the full list of injuries or if more news will be coming shortly.
It's surprising that Giroux had issues with both of his wrists, considering he hasn't played a postseason game in eleven days and yet still leads all players in points with 17 (Dustin Brown is in 2nd with 15 points). He also finished the playoffs with a 51.9% face-off record in spite of his "handicap."
Carle was apparently a beast, second among all Flyers in ice time in the postseason despite a nagging injury. One point that beat writer Bill Meltzer made a few days ago about Carle's value to the team is is his health and iron man status.
"Something that is not widely publicized about Carle is what a hard worker he is. He hasn't missed a game in two seasons, and suited up in 80 games the year before that. So you know that the 27-year-old has accumulated his fair share of bumps, bruises and minor injuries. Despite that, he is a player who rarely takes so much as a maintenance day. Carle is well-conditioned and able to carry as many minutes as the team wants or needs to give him in any given game."
Simmonds was fairly invisible during the Stanley Cup Semifinals. His broken finger may have affected his game a bit, but it's impossible to measure that. Simmonds has one more year on his contract and should be ready to go for training camp.
Timonen's surgery is the least surprising announcement.  His back issues have been widely publicized over the last few months, and I doubt his back is the only injury he's healing from. Timonen has one more year until his expected retirement.
For the latest Flyers news and updates, you can follow me on twitter (@JoshJanet).