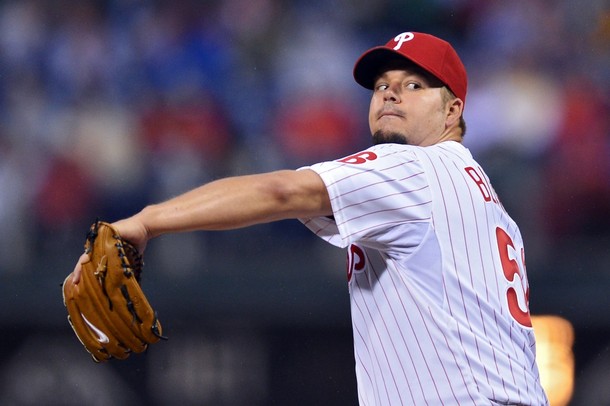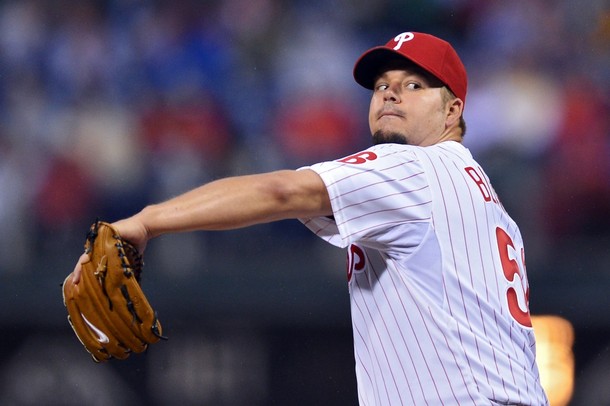 The Phillies saw their six-game winning streak snapped on Saturday night, falling to the Boston Red Sox 7-5 in the second game of the series.
Starter Joe Blanton has been excellent this season, but he just didn't have it on Saturday. The righthander was hit early and often, giving up seven runs (six earned) on nine hits in just 4.1 innings.
Blanton gave up a career-high four homeruns, and his ERA shot up to 3.74.
Although Blanton pitched poorly, the bullpen did a good job to hold the Red Sox down for the rest of the game, and give the Phillies a chance to come from behind.
Raul Valdes, Joe Savery, and Jose Contreras combined for 4.2 scoreless innings. The three relievers allowed just two hits between them.
The Phillies had opportunities to tie the game in the fifth and sixth inning. They began both innings with multiple runners on base, only to have any hopes of a rally killed by Shane Victorino and Hunter Pence grounding into double-plays.
Carlos Ruiz had been spectacular out of the five-hole, but tonight he struggled, going 0-4 and leaving six runners on base.
Five Philadelphia starters (John Mayberry, Shane Victorino, Ty Wigginton, Hector Luna, Freddy Galvis) had multi-hit games.
Mayberry had three hits and a walk, increasing his average to .257. The Phillies need him to come out of his season-long funk, and become a reliable, productive hitter again.
Hector Luna turned in a nice start at first base, picking up three hits and an RBI. He's batting .417 since his call-up from the minor leagues.
Freddy Galvis continued his improved offensive play with two hits and two RBI's. His average is now up to .247 for the year, and .300 for the month of May.