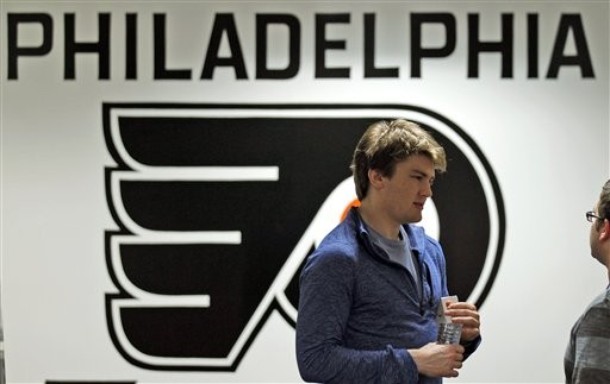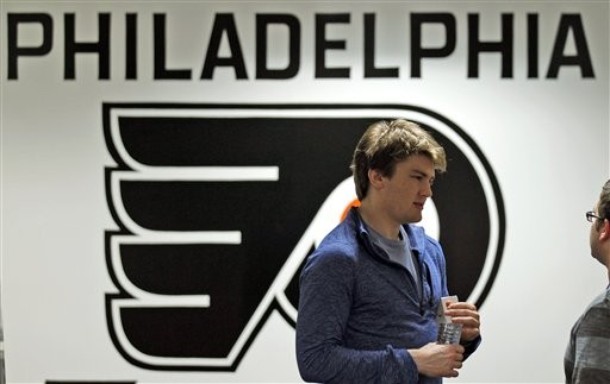 James van Riemsdyk won his roster position on the Philadelphia Flyers after dominating the competition in training camp and during the preseason in 2009. Three years later, his stock has fallen considerably lower in the eyes of the fanbase after expectations for a #2 overall draft pick were not yet met.
After his first year, he had to cope with unfair comparisons between himself and the #1 overall pick, Patrick Kane. The Chicago Blackhawks' defeat of the Flyers in six games in 2010 suggests Chicago won the 2007 NHL lottery draft, but recent headlines have suggested that maybe they didn't.
Van Riemsdyk improved his offensive production in his sophomore season to 21 goals and 40 points, though his scoring came in streaks. A dominating performance in the playoffs had suggested he was ready to take the next step in his development, but a series of injuries this past season hampered him to a meager 11 goals and 24 points in 43 games played.
Dave Isaac elaborated on the extent of his injuries on Sunday, writing, "A hit he took in the preseason shook him up and set the table for a frustrating season full of injuries and time spent in the press box instead of on the ice. He fought through a hip injury, groin strains, ab and oblique tears, a concussion and a broken foot."
No one has any idea what general manager Paul Holmgren intends to do in the offseason, but that hasn't stopped JVR's name from being included in various speculative trade scenarios for the likes of Rick Nash or Shea Weber.
If the 23 year-old is shipped out before his six-year, $25.5 million contract kicks in, though, where would the organization find top-six talent to replace him?
Jaromir Jagr is unlikely to return next season as the Flyers aren't expected to re-sign him to the same amount of money or offer him additional minutes.
That leaves Claude Giroux, Scott Hartnell and Jake Voracek (if he's re-signed) to fill out the top line while Brayden Schenn, Danny Briere, and Wayne Simmonds would be left to fill out the second line.
There is offensive depth there, but Schenn, Simmonds and Voracek all still have areas to improve on if they are expected to take on larger roles and figure into the long-term plans of the organization.
Simmonds illustrated that he can be a prolific powerplay specialist, but he needs to reduce his defensive liabilities. Voracek has taken strides with the defensive side of his game, but needs to shoot more. Brayden Schenn just needs more time to play.
On the free agent market, there are a number of options that the Flyers could realistically sign, but none of them would be inexpensive replacements. Brad Boyes (BUF), P.A. Parenteau (NYI), Kristian Huselius (CLB) and David Jones (COL) could potentially fill a top six role, but there's no guarantee they're going to fit in on the Flyers any better or worse than van Riemsdyk, or that they would even sign with Philadelphia over 29 other teams.
This is all speculation, but I don't think he's going anywhere unless there is a hockey trade that "makes sense" for Holmgren in the way that the Mike Richards and Jeff Carter trades did last season.
As Kevin Arnold of The Wonder Years once said, "Maybe we both realized that growing up doesn't have to be so much a straight line as a series of advances and retreats."
JVR is young enough that he should be able to move past the disappointment of the 2011-12 season and eventually contribute to the organization as one of its central stars. Only if injuries continue to serve as reasons for lackluster production should fans really want to see him wearing another jersey.
For the latest Flyers news and updates, you can follow me on twitter (@JoshJanet).