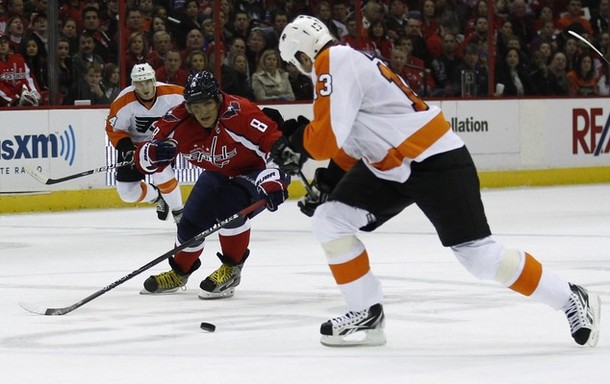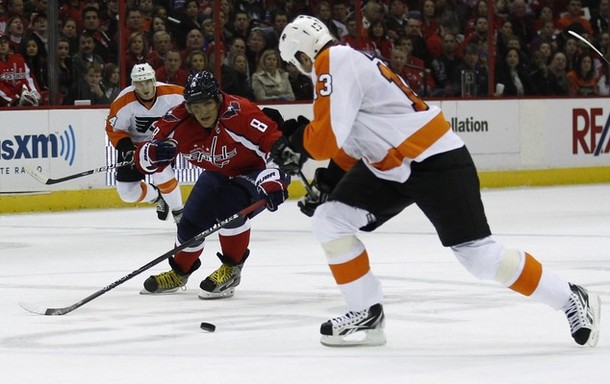 Elliotte Friedman publishes a weekly column titled "30 Thoughts" for CBCSports that encompasses a wide range of timely topics relevant to the NHL or the sport of hockey itself. In his most recent column, Friedman threw out this interesting (if not frustrating) item:
"In discussing the New Jersey forecheck about a week ago, [Zach] Parise gave some insight into what Philadelphia will be looking for. Parise said one of the reasons the Devils successfully pressured the Flyers was the lack of a right-shot defenseman to move the puck on that side. The only one on the roster is Pavel Kubina, who was a healthy scratch for the series. "
In hindsight, replacing rookie Erik Gustafsson with the 35-year old Czech blue-liner on the third line may have helped alleviate this issue, if it was in fact central to the Devils' strategy.
Kubina was scratched, though, because the speed of the game had been impeding his effectiveness over the last stretch of the season.  The Devils' relentless forecheck would have likely stalled his efforts anyway.
This topic does present a question for the Philadelphia Flyers, though- do they need to pick up a right-shooting defenseman in the off-season?
Most NHL players shoot left. There really is no definitive answer as to why, but it makes those players that shoot right a commodity for the flexibility they allow on the ice.
As Kubina is not expected to be re-signed by the organization, the Flyers would not have any right-shooting defenseman on the roster unless they went out of their way specifically to sign or trade for one. There are several options hitting free agency that could address the issue.
Dennis Wideman
At 29, Wideman is in his prime and is a very good offensive defenseman that is typically reliable for 30 to 50 points. Teams with the need for top four defensemen are likely to pay decent money for his services; think $5 million plus.  Wideman shares a lot of similarities to Matt Carle, though. If you don't like Matt Carle, you aren't going to like Dennis Wideman.
Joe Corvo
Corvo, 35, is entering the twilight of an NHL career that has steadily declined over the last few seasons. He's still a capable 4th/5th defenseman that can put up points, but he is neither a puck-moving defenseman nor a particularly physical defenseman. He's Kubina, but much healthier and probably $2 million cheaper based on previous contract history. Boston Bruins fans would be happy if he was playing elsewhere, further suggesting he's a bit of a risk.
Matt Gilroy
Flyers fans may remember him as New York Ranger, but Gilroy bounced between the Tampa Bay Lightning and the Ottawa Senators this past season. At 28, he's also entering his prime as a defenseman. The downside is that he has been used primarily as a 5th/6th defenseman with minimal powerplay or penalty killing responsibilities. If he's going to slot in as a 5th defenseman, there's no history suggesting he will be able to slide into a top four role if injuries occur.
Bruno Gervais
Gervais is the same player as Gilroy. He'd be cheaper, but the Flyers would still have no guarantee he could be more than a 5th defenseman.
I'm not even considering Radek Martinek, whose joints appear to be held together with Elmer's glue.
Beyond these players, there aren't many right-shooting defensemen available with NHL experience. Impending collegiate free agent Justin Schultz would fit the bill, but the Philadelphia Flyers are likely one of thirty teams that will be vying for his services on July 1. As it stands, the Edmonton Oilers and the Toronto Maple Leafs are apparently the front runners (for reasons I couldn't tell you).
Then there's the crown jewel of all right-shooting defensemen- Shea Weber. I don't think I need to go into any further detail, but he would obviously be the first option if available.
For the latest Flyers news and updates, you can follow me on twitter (@JoshJanet).