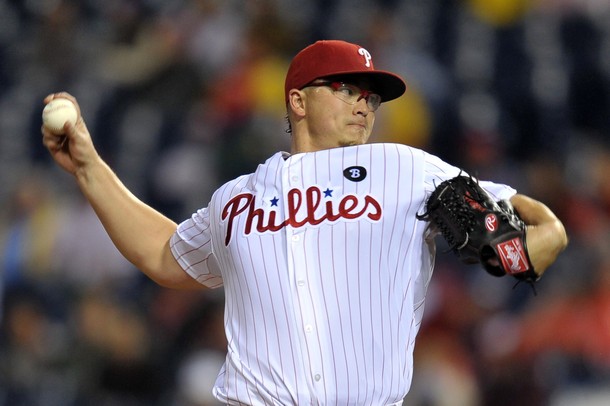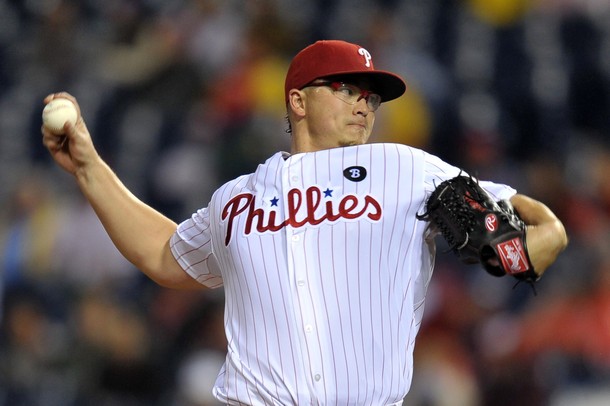 The Phillies lost their third straight game on Monday night, falling to the Los Angeles Dodgers 4-3. Philadelphia once again struggled offensively, scoring all three of their runs in one inning. The loss drops the Phils back to the .500 mark at 28-28.
Vance Worley made his first start since returning from the disabled list, and lasted just four innings, allowing three runs.
The Phillies were cautious with the righthander, allowing him to throw just 80 pitches in his return.
Worley got off to a rough start, giving up walks to two of the first three batters he faced, and then allowed RBI singles to Juan Rivera and former Phil Bobby Abreu.
Jonathan Papelbon gave up the go-ahead run in the ninth inning, and took his second loss of the season. The closer hasn't treated the Phillies to many poor appearances this year, making his failure tonight a forgivable offense.
The Phillies offense was held down by a poor collective effort from the heart of the order. Hunter Pence, Carlos Ruiz, Shane Victorino, and Ty Wigginton went a combined 1-15 on the night.
Pence came up with a terrible at-bat in the seventh inning, popping up with the bases loaded. The rightfielder has only picked up two hits in his last 33 opportunities with runners in scoring position.
It was the second straight hitless effort from Pence, who is now 0-8 in the last two games.
Placido Polanco had yet another two-hit game, and drove in two runs. His average continues to rise, and now stands at .294.
Freddy Galvis had his best offensive game in several weeks, collecting two hits and driving in a run. It was the first RBI for the rookie since May 26th.
Joe Savery and Antonio Bastardo combined to pitch four scoreless innings in relief of Worley.