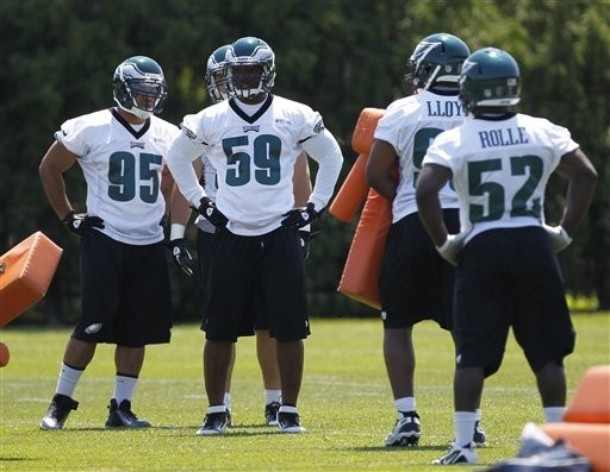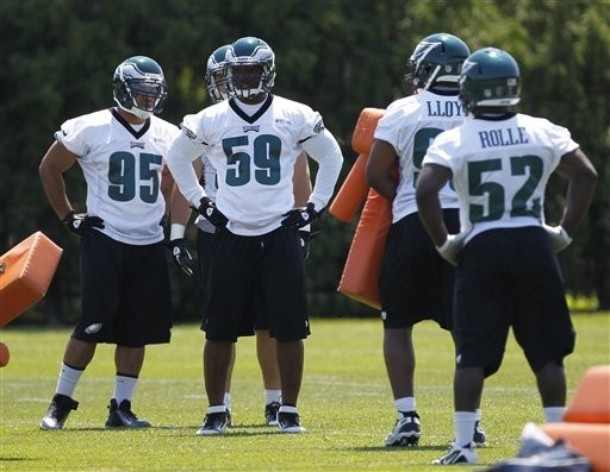 The Eagles currently have DeMeco Ryans starting at middle linebacker, rookie Mychal Kendricks starting at SAM or strongside (tight end side) linebacker and second-year backer Brian Rolle starting at WILL or weakside (away from tight end side) linebacker.
As I see it, the Birds have nothing but WILL linebackers.  They're good football players, but their lack of height is a problem at the SAM position because the main job is covering the tight end.
Outside linebackers Kendricks, Rolle and veteran Jamar Chaney are short, fast, and explosive, which helps them as tacklers and as coverage guys against running backs.  I would have no problem matching either one of them up against the running backs in the NFL, but it's a different story against NFL tight ends.  I think they could all do a decent job as WILL linebackers, but they aren't SAM linebackers.
This is obvious.  Why aren't the Birds matching up Nnamdi Asomugha against quality tight ends in some nickel situations?  Asomugha is 6'3″.  Why aren't the Birds worried about matching up against big wide receivers?  Asomugha is 6'3″ and Dominique Rodgers-Cromartie is 6'2″.
They've greatly improved their linebackers, but not acquiring a couple of taller linebackers to play the SAM spot was a mistake that will cost them.
NFL offenses are going to be able to throw the ball to their tight ends against the Eagles, especially in red-zone situations because the Birds don't have any 6'3″, 6'4″ and 6'5″ linebackers.  I know these guys can jump, but many times their back will be to the quarterback when the ball is thrown and they may not have time to jump.  They will need something that they don't have (height and arm length) to knock the ball away.
All the Eagles need to do is look at a guy who is at each of their practices, former Eagles wide receiver great Harold Carmichael who stands 6'8″.  Carmichael used his height to dominate smaller defensive backs and it made a huge difference.
Why has it been impossible to stop Detroit's wide Calvin Johnson?  He's 6'5″ and a tremendous athlete.  Most of the time he has at least a five to eight inch advantage over the defensive backs who try to cover him. Matthew Stafford can just throw the ball up to him.
Carmichael had this same advantage and was able to set records for consecutive games with at least one catch.   All Ron Jaworski had to do was throw the ball up to him.
Is it a coincidence that Johnson at 6'5″ had 16 touchdown catches in the 2011 season.  New England 6'7″ tight end Rob Gronkowski had 17 touchdown passes and Green Bay wide receiver Jordy Nelson (who stands 6'3″) had 15 touchdown catches.  It's a fact that a height advantage helps.
So why would it make sense to match linebackers who are 5'11" and under against NFL tight ends?
The Eagles linebackers are going to be facing tight ends who are 6'5″, 6'6″ and 6'7″ on a regular basis.  If height wasn't a major advantage then why do teams look for tall receivers like Carmichael, Johnson, and Plaxico Burress to throw the ball to in the red zone?  Teams are simply going to throw the ball up high and Eagles linebackers will be forced to interfere.
The Cowboys have Pro Bowl tight end Jason Witten, who is 6'5″.  The Giants have Martellus Bennett and Jake Ballard who are 6'6″.  The Redskins have Fred Davis and Robert Quinn, who are both listed at 6'4″.
They will also have to stop New Orleans Saints monster Pro Bowl tight end Jimmy Graham who is 6'7″.   Atlanta Falcons tight end and future Hall of Famer Tony Gonzalez is 6'5″.  The Detroit Lions have Brandon Pettigrew and Tony Scheffler who are both 6'5″.  The Steelers have Heath Miller who is 6'5″.   Arizona Cardinals Todd Heap is 6'5″.
The height advantage can be exploited out in the field, but it's most important in the red zone.  There are quite few outstanding tight ends in the league now, and they do a nice job of using their size to screen defenders off while using their hands to catch the football.
I'm not saying the Eagles linebackers won't be effective in other areas of the game, but they'll be at a tremendous disadvantage when other teams are throwing the ball to their tight ends.