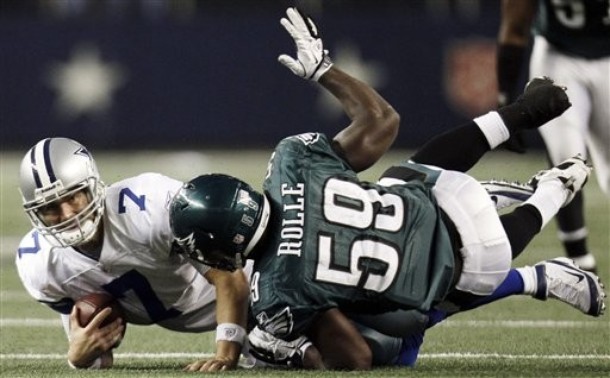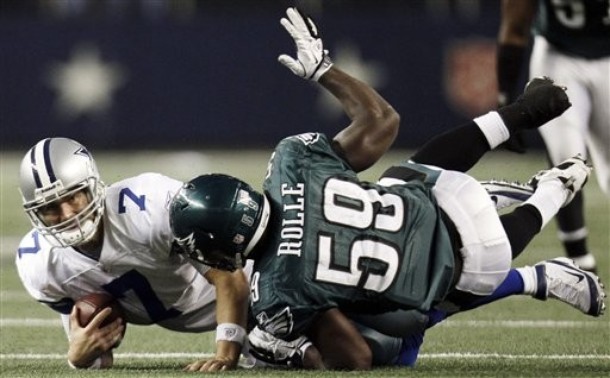 Former Ohio State Buckeye Brian Rolle caught my eye early in the last year's Eagles training camp.  On this particular play, he came up and made a play on a screen.  Rolle reads plays and attacks them.  He doesn't play a careful brand of football and that's why he'll always make big plays.
Rolle reads plays instinctively and isn't afraid of going for the kill.
He's as quick as a cat and he's got great feel for the game.  Being 5'8″ won't be a great disadvantage at WILL linebacker, where he'll be matched up against the opposing running backs.  Rolle is short but powerful at 240 pounds.
Rolle has a great feel for the game.  Last year I heard and saw him diagnosing plays ahead of players who were much more experienced than he was.  Yes, there are going to be times when he gets smothered by the big offensive linemen which will make it impossible for him to see the football.
Rolle has the good pass coverage ability and he's shown the ability to get his hands on the football.  I think his football acumen is high and I've seen him anticipate routes and make plays on the football.
The youngster is a very good blitzer because of his quickness, explosiveness and willingness to turn it loose.  He's so short he can get lost in the crowd and sneak by the blockers.
He takes advantage of his size when tackling by getting up under ball carriers.  Rolle needs to make some big plays if he wants to make sure he keep his starting job at WILL from Chaney.
"I haven't been tall my whole life," Rolle said confidently after practice yesterday. "But football, I tell people, I just get it. I don't
know how. I think I was just born with it. When we sit in meetings and they tell me the coverage, they tell me the defense, I rarely have to look at it twice. On the field, I see something, I know how to go get it. Some guys ask questions about stuff, but it seems kind of simple to me."
Rolle will benefit from playing beside a veteran and accomplished player like DeMeco Ryans.  The vet will teach him how to watch film and study the upcoming opponent.  Ryans will be there to encourage him and get him back on the right page when he struggles.
"I feel like we're going to make a lot more plays, we're going to contribute more to the team," Rolle said. "We're going to be a better-tackling group than we were last year, and bring the athleticism in with Kendricks."