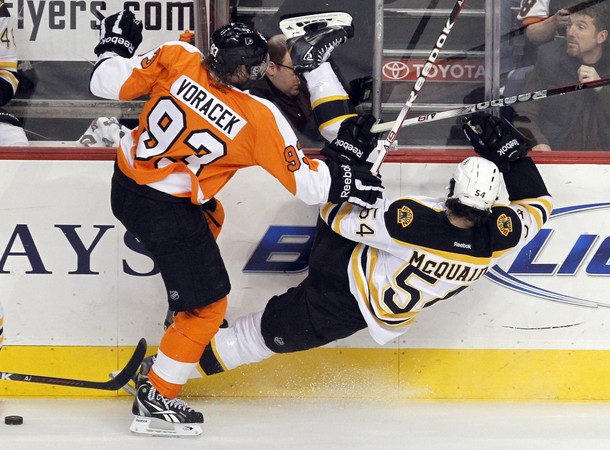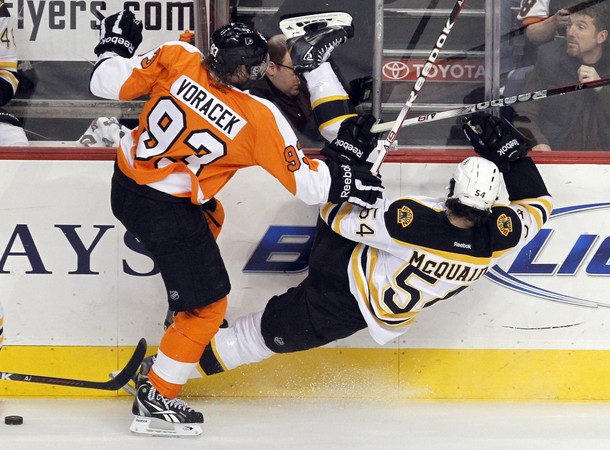 Jake Voracek finished the 2011-12 NHL season with his highest goal total to date- 18 goals- but did not break his previous record for points. His 49 points in 78 games played is one point shy of the record he set for himself two seasons ago with the Columbus Blue Jackets.
The 22 year-old Czech winger has arguably the second-best playmaking ability on the Philadelphia Flyers behind Claude Giroux, but he also hasn't had a true "break out" season since his rookie season in 2008. As a former #7 overall pick, the expectations have always been astronomical for him.
Last year, Philadelphia Flyers general manager Paul Holmgren signed Voracek to a one-year, $2.25 million contract that was in line with other signings at the time for a player of his potential and history.
This year, Holmgren may not be able to afford his services.
Voracek is a restricted free agent.  The Flyers are the only team that has the right to negotiate with him for a future contract, but other organizations can extend offer sheets to him in exchange for draft pick compensation.
In his end-of-the-year session with the local media, Holmgren stated, "We'll talk about [an extension] with his agent here over the course of the summer. I think Jake had a good year. I think there's areas he can still get better at. I think he can work on his shot a little more, he can probably shoot the puck more. But he's an exciting young player who's going to continue to get better."
Reading between the lines, Voracek will be back if the price is fair. Unfortunately, "fair" has a way of changing every time the salary cap increases.
The salary cap for the 2012-13 NHL season is expected to increase from the current level of $64.3 million to as much as $70.3 million.  As Flyers fans, salary cap increases are often met with joy, as it means that the organization may actually have space to make improvements to the roster.
Salary cap increases also have a way of over-inflating market values. In 2011, forwards Ville Leino and Tomas Fleischmann both received six-year, $27 million contracts despite neither "deserving" one based on history. Fleischmann's turned out to be well worth it, as he led all Panthers in goals and helped them reach the playoffs for the first time in over a decade.
Leino's… not so much.
Voracek would certainly be brought back if the Flyers could lock him in for multiple years at $3.5 million per year or less, but what happens if someone throws an offer sheet?
The current collective bargaining agreement breaks down draft pick compensation into offer brackets. In Voracek's case, an offer between $3,134,088 and $4,701,131 that, if not matched, would provide the Flyers with a 1st and a 3rd round pick in return,
I really don't think that a six-year, $27 million contract is out of the question in today's NHL for a player of Voracek's services.  Hopefully, if Holmgren doesn't think he can sign Voracek, he will find a way to trade him for a better return before it reaches that point.
For the latest Flyers news and updates, you can follow me on twitter (@JoshJanet).