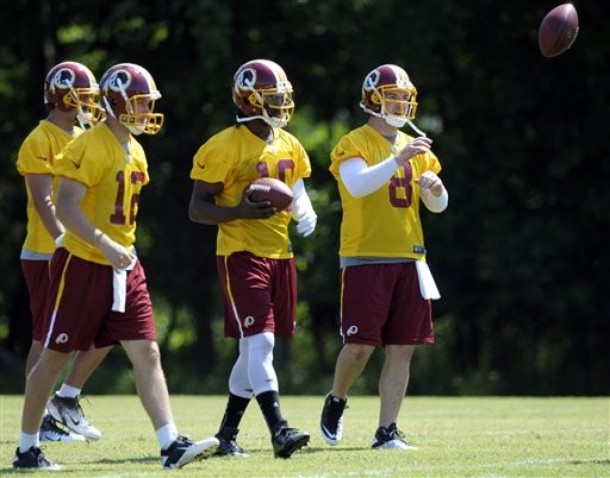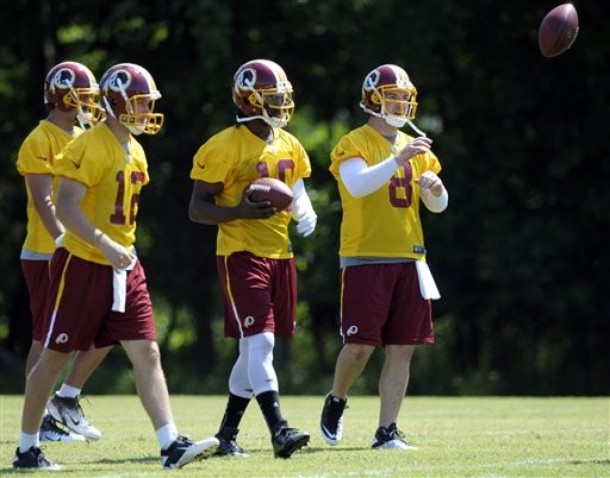 2012, a year removed from the "Dream Team" debacle, and the first full camp as Eagles for last year's crop of free agents as well as for quarterback Michael Vick, his first full camp as starter. Has the team rebounded from such a porous defensive showing, and has an offense that had trouble holding onto the football (especially in the red zone) be able to return to form when electrifying big plays were the norm in 2010? But how do the 2012 Eagles matchup with or compare to the rest of the NFC East?
But what about the rest of the division? The Washington Redskins have acquired the potential Rookie of the Year when they drafted Baylor quarterback Robert Griffin III, but what else do the 'Skins bring to the table if they are to compete with the Eagles for the NFC East Title?
RG III, already anointed King of D.C., will begin the season as the starter, and with him the Washington offense gets a lot faster, and a bit more dangerous.  He has Vick-like ability both on the ground with his speed and in the air with great arm strength and accuracy. But along with his dangerous physical capabilities there is his inexperience which, on paper will slow down the Redskins from being a serious threat to the crown. But a mixture of veterans (wide receiver Santana Moss) and free agent signings (receivers Pierre Garcon from the Colts and Josh Morgan from Tampa Bay) along with tight ends Fred Davis and eight-year veteran Chris Cooley (who returns after missing eleven games last year because of a knee injury) will greatly aid Griffin as he eases into the leadership role of the team.
Washington finished 5-11 last year, and in the middle of the pack in passing yards (3773) and yards per game (235.8), but near the bottom in both rushing yards (1614) and points scored (288). When they go up against an Eagles defense that has gotten better and faster across the board, we could be looking at one shutout this season.
Let's check out that defense, starting with the line, the deepest group by position on the football club. Defensive end Trent Cole is arguably the best linemen the Eagles have and is advancing towards another Pro Bowl year. Great against the run and a beast chasing down quarterbacks from the right side, he's flanked by "thrill seeker", Pro Bowl left end Jason Babin. Hopefully Jason will find his thrill slinging quarterbacks more than the 18 times he did last year. The middle of the line is more than solid if less than spectacular, with tackles Cullen Jenkins and Mike Patterson. But all eyes are on two rookies, DT Fletcher Cox (Mississippi St) and DE Vinny Curry (Marshall). Cox, the 15th pick overall will challenge for the first spot off the bench in the D-Line rotation (not to exclude Daryl Tapp, Antonio Dixon). RG3 will get an awesome NFL baptism this year!
But the position everybody and their mother has been talking about is linebacker. The Eagles bolstered the group by adding middle linebacker DeMeco Ryans via a trade with the Houston Texans who significantly solidifies a group that had trouble early last year stopping the run so, this year it doesn't look any better for the Skins on the ground. Throw in the team's third round pick out of Cali, linebacker Mychal Kendricks and probable starter Brian Rolle and the Eagles have perhaps the fastest set of linebackers in the division. It'll be very difficult for the Skins or any other team to run on Philly this year.
After a full camp together, and a working knowledge of the system for second year Eagles Nnamdi Asomugha and Dominique Rogers Cromartie will face essentially, a brand new fleet of pass catchers from Washington. The Redskins released last year's leading receiver Jabar Gaffney (68 rec. 947 yds.) just before last week's OTA's as well as running back Mike Sellers, but have resigned Tim Hightower. Running back and budding star Roy Helu who led the team with 640 yards and a very decent 4.2 per carry probably picks up where he left off last year. Like the Eagles, the Redskins had a turnover ratio of -14 and both teams managed to keep the football an average of half the game. But Washington quarterbacks were picked off 24 times last year which will have smash mouth safety Kurt Coleman, Philly's interception leader a year ago, salivating.
RG3 will have a few weapons to work with on offense, but how about on the other side of the ball? The Redskins have a pretty good corp. of linebackers as well led by that ageless wonder, middle linebacker London Fletcher who led the NFL with 166 tackles in 2011 and has always been a thorn in the Eagles flesh. He will get help from the two outside guys, Brian Orakpo, Lorenzo Alexander as well as cornerback DeAngelo Hall. The NFC's fifth best has high hopes of improving a defense that notched 41 sacks a season ago.
The team lost Oshimogho Atogwe and hard-hitter Laron Landry, but added Brandon Meriweather, a free agent from New England and Tanard Jackson which should help their secondary improve from only 13 interceptions. But Fletcher and co. will have their work cut out for them against what should be an improved Eagles offense.
Quarterback Michael Vick leads a Philadelphia offense that was in the top 10 in every major category last season finishing 8th in scoring – 24.8 ppg, 4th in points scored – 399.1, 9th in passing yards – 256.9 and 5th in rushing with 142.2 ypg. Not bad for an 8-8 football team that was so unselfish that they just gave the ball away to opposing teams. But scoring is what they look to do this year with great optimism as they balance a great ground attack with a much more disciplined passing game. Vick actually had a good year statistically in 2011 throwing for more yards (3,303) and more attempts (423) than any of his previous nine seasons. And his completion percentage was 59.8, second only to 2011 when he completed 62.6 of his passes with a passer rating of 84.9. But those numbers were overshadowed by the ten fumbles (four of which he lost) and the fourteen interceptions which is a career high.
Wide receiver Jeremy Maclin and tight end Brent Celek practically mirrored each other, leading the team in receiving last season (63 catches, 859 yards, 5 touchdowns and 62 catches 811 yards 5 touchdowns respectively). But DeSean Jackson anticipates rebound from a season that saw much of it wasted in self pity and the sound of footsteps in his ear. But to his credit he still led the team in receiving yards with 961 and 16.6 yards a catch. And Jason Avant, the unsung hero, is always steady and dependable.
LeSean McCoy the leagues 4th ranked running back last season (1309 yards) is expected to do more with less. Less carries that is. McCoy carried the football 273 times. Only six other running backs in the league ran the ball more and only seven for more yards per attempt (4.8). And his 20 total touchdowns led the NFL. But the team had a plan to lighten the load, and drafted Bryce Brown out of Kansas St. But watch out for rookie free agent Chris Polk out of the University of Washington. Let's not forget about Dion Lewis who I believe will make a name for himself in 2012.
The Eagles offensive line can still be one of the best in the NFL even after losing "All World" left tackle Jason Peters with a torn Achilles tendon. But with the quickness the Eagles snatched up Buffalo Bills left tackle Demetrious Bell in the early stages of free agency. Andy Reid and offensive line coach Howard Mudd, as well as Bell are more than comfortable that the left tackle spot is secure.
With last year's addition of left guard Evan Mathis and the outstanding play of rookie center Jason Kelce, Coach Mudd looks for 2011 first round pick right guard Danny Watkins to have a better camp (remember Watkins was a camp holdout in 2011). Expect a Pro Bowl year from right tackle Todd Herremans this season. He's got to anchor the "O" line this year as they look to gel in training camp.
So there you have it. But the Redskins are farther ahead then what most people think. Give them some time to get it all together and they could be dangerous. Robert Griffin III is an intelligent and gifted quarterback who will learn from actually playing the game. And the offensive line, which has some young talent, is going to be better in time as well.
But up against these Philadelphia Eagles it doesn't matter which side of the ball you're look at. Philadelphia will dominate this eager (but inexperienced and less talented) team. Eagles sweep the Redskins this season and post a shutout by the defense in week eleven in D.C.