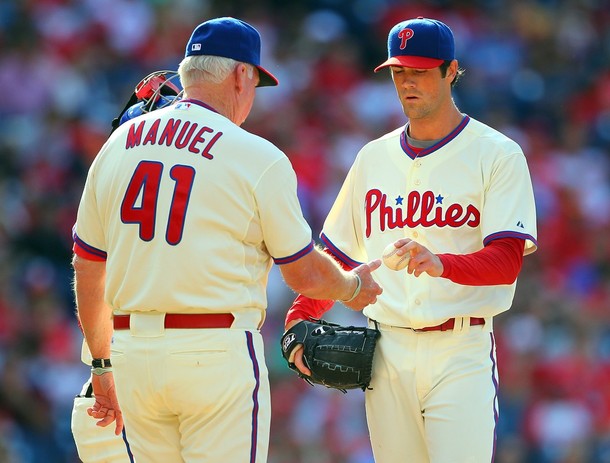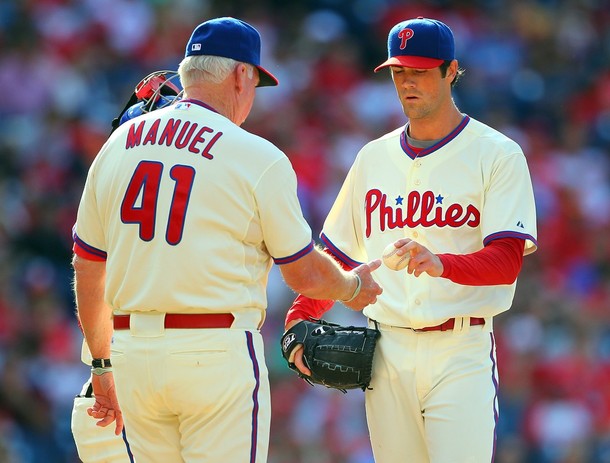 We are about 40% through the baseball season. This is about the time where it's just not a bad start anymore, and your team may have some problems.
Locally, the big question is will the Phillies be buyers or sellers at the trade deadline ? As of today they sit in the basement of the N.L. East, seven games behind the Washington Nationals. But even more important, they are behind three other teams.
I understand everyone wants action, but the first thing you have to do is identify the problem. Someone said this week "How are they expected to win playing subs every night? How can you win with guys like Luna, Orr, and Fontenot playing?"
Let me tell you about another team. This team has injuries as well. Yesterday their line up had names like Herrera, Rivera, Ellis, and Castellanos. Looks more like your co-ed intramural team that played Jimmy Wong's sushi shack this week. But this team is 38-22, and leads their division. Part of the reason they are succeeding is they have a manager that understands situational baseball, and puts his team in a position to win more often.
That team is the Los Angeles Dodgers, and that manager is Don Mattingly. Charlie Manuel is a lovable guy. He has decades of experience in the game. He was as popular as Godzilla and David Hasselhoff when he played in Japan. He is admired by his players. All that being said, why does that mean he is the best man for the job? Why does that mean that he is more qualified then you or I? Because he has been around the game longer? All that experience didn't teach him after the seventh inning in a tie game when the lead off man gets on  second, you should consider bunting him over to third base?
The Phillies also have a lead-off hitter that should be hitting eighth. Manuel lets his personal feelings get in the way of a baseball decision that should have seen this done two years ago. Rollin's .244 average this year is one thing, but it's the .292 On-base percentage that has me scratching my head. What is it going to take for this manager to make this move to improve this team?
Over the last three years Rollins has a .251 Batting average with a .313 on-base percentage, one of the lowest in baseball. Sure injuries have played a huge role in the team's current demise . I could go back and pull out at least four games that were decided by situations that shouldn't have happened if the team was better coached. I like Charlie Manuel but he has to go. If you are blaming injuries on this year, what is the excuse for the past three years ? Arguably one of the top 20 teams talent wise ever assembled with a top five pitching staff,  the team has been on a steady decline since 2008.
Everyone remembers 2008, the year we didn't have any $20 Million dollar a year players. We have just added expensive pieces when other teams rebuild. In fact Texas has lost their number one starter to free agency each of the last three years yet has got better . Also could the Cole Hamels situation be handled any worse?
Cole Hamels is the biggest reason that we have our world championship. He's 28 years old. Give him his seven-year deal and build around him. Do not let him walk because you made one of the biggest mistakes in MLB history giving Ryan Howard his contract.
From a national perspective I can't forget listening to ESPN a month ago and hearing their baseball "experts" say the Angels were finished. At the time they were eight games out of the lead. It was the beginning of May. These guys are experts? Eight games has been made up in three weeks, just look at our beloved Phillies a few years back. I take what goes to print very serious. I want to be the best at what I do no matter what it is. I put my time in. I form my own opinions and I make sure they came from an educated stance. ESPN is one of the channels I watch. But for those of you who are hard core baseball people like myself the MLB network does a great job at covering the game. I won't change my World Series prediction like most. I'm sticking by my original Giants-Angels call. Neither team is in first place, but I think both still have the capability to win. If you take out the teams currently leading their divisions, St. Louis, San Francisco and Atlanta look like they still could make a run. All have good pitching and have decent lineups.
Current MVP Leaders

National League: Joey Votto, .362 BA  .484 On base %  .643 Slugging %  10HR 38 RBI  26 2b
American League: Josh Hamilton, .338BA   .395 On Base % .699 Slugging %  22 HR 59 RBI 13 2b
Current Cy Young Leaders
National League:  Gio Gonzalez, 8-2 2.35 ERA
American League: David Price, 8-3 2.40 ERA