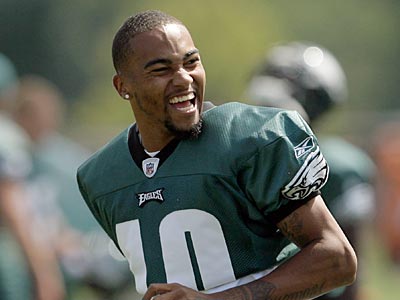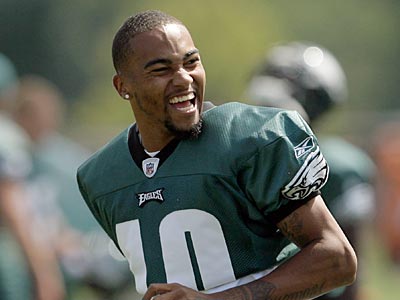 What do Floyd Mayweather Jr., Allen Iverson, and Eagles' wide receiver DeSean Jackson all have in common? Rap careers. DeSean Jackson will join the infamous list of "rapletes" with the debut compilation album from his label Jaccpot Records. Jackson spoke about his record label and rap career with 97.5 The Fanatic earlier this week.
"My number one thing I do [is football]," Jackson said. "I don't think anyone should judge anything I do. That's what I decided to do. My record label? People can hate on it, but no one knows the truth. I just have a passion for music. I grew up around Snoop Dogg and having the relationship I am able to have with him and certain people in the industry. I mean it's a blessing for me. I am just taking advantage of that and at the same time shedding light and helping out people I grew up with making it in life. Some of them have some great talents in the music game as well, so maybe one of their sirens goes on after this, so I really don't get into what people think of or say negatively about it. In my eyes it's positive."
Jackson founded Jaccpot Records as a means to help his childhood friends from California pursue their rap careers. Last summer he celebrated the launch of the label with a $25,000 party at a Los Angeles nightclub. The All-Pro receiver and his label mates are scheduled to release an album around the same time that training camp begins. With the demands of owning a record label, recording an album, and promoting an album being a job in its self, many are concerned about Jackson's priorities.
"When I am focused on football and playing football that's what I am going to do," Jackson replied in defense."When the season comes around I will be 100% focused on football. It's not a distraction to me and it won't be a distraction for everybody to say I am spending all types of money like…it's nothing like that. You really get to understand the world. Once the music is released those people will be able to get a different perspective on it, so like I said I am going to pursue it and football is first and foremost."
Due to the physicality of the game of football, athletes can't play forever, and although I support those who pursue other career opportunities, I'm not sure if I approve of this avenue. No one would be as concerned about Jackson's rap career if it was a commercialized kick where he releases a song or two, but owning a record label is a different ball game. Although his new $51 million contract with the Eagles gives him the money, Jackson doesn't have the time to conduct the duties of a record label CEO. Also, as a hip-hop/rap fanatic that has witnessed the failures of "rapletes" time and time again, I wouldn't care to hear the album anyway. Even though I'm certain that many agree one way or another, the Pro Bowler sees no problem with his rap aspirations.
"In my eyes I am not looking at it as anything. I am just looking at the positives, so like I said I have a passion for it and a passion for Hip Hop.  How can you fault me for having a passion for Hip Hop? That's how I grew up and I was raised, so basically it is my life."
Although I don't agree with Jackson's choice to pursue a rap career at such an important time in his football career, I do wish Jaccpot Records the best of luck. With that being said, however, I hope that the Eagles' $51 million investment will be focused on a Super Bowl, not album sales.