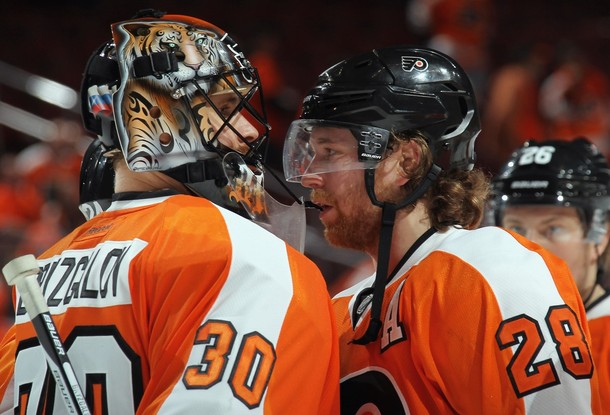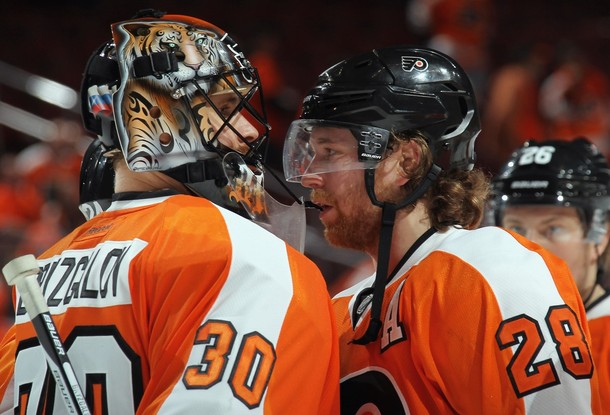 The 2012 NHL Entry Draft is three days away and with free agency looming soon after, I've collected many of the reports floating around regarding the Philadelphia Flyers and summarized them below for brevity.
Bill Meltzer of HockeyBuzz is calling "shenanigans" on Paul Holmgren after comments he made yesterday to the media that the Flyers plan to stay put with the 20th overall pick in the 2012 NHL Entry Draft.  "The GM also denied that the team has interest in moving up at the Draft. That's malarkey. At the recent NHL Scouting Combine the Flyers reportedly met with several players who are certain to be drafted long before the team's current 20th slot comes up. It's been said off-the-record that the Flyers told at least two of the top rated North American defensemen and one of the top European forwards at the Compound they are considering ways to move up on Friday.

Does that mean the Flyers will end up moving up in the first round of the Draft? Not necessarily. But they aren't ruling it out, nor are they inflexible about potentially moving down from the 20th spot to pick up an additional selection a little later in the Draft. Again, all options remain open."

Dan Rosen, senior writer for NHL.com, reported via twitter, "Claude Giroux has spoken to Paul Holmgren about the Flyers captaincy, but Giroux said it is Holmgren's call and the C is not on his radar.  Giroux, of course, would only get the C if Chris Pronger can't return.  Giroux said he hasn't spoken to Pronger since the season ended."
CSNPhilly caught up with Holmgren regarding Pronger and reported that the organization is trying to utilize him by assisting with scouting videos. "Pronger, Holmgren said, has provided the team with written evaluations of talent based on videos the Flyers have sent to him. While not as encouraging as a return to practice would be received, the fact that Pronger is helping out in any capacity should come as welcome news to Flyers fans. It is the first indication that he has been healthy enough to work at all."
Pierre LeBurn of ESPN is reporting that the Flyers are one of the remaining teams still targeting Rick Nash. "The Philadelphia Flyers, a source told ESPN.com Tuesday, are also part of the 'in' crowd when it comes to talks with Columbus on Nash. He'd be a great fit alongside Claude Giroux…  In all, five to 10 teams are believed to have some level of interest on Nash." The New York Rangers are considered the front runners with varying interest also coming from the Boston Bruins, Ottawa Senators, Toronto Maple Leafs and San Jose Sharks.  The Columbus Blue Jackets are asking for Logan Couture, though, and the Sharks refuse to part with him.
Forget Rick Nash; TSN's Bob McKenzie reported that Bobby Ryan is on the market again. I'm not in favor of blowing up this team again for Nash or Ryan, but Ryan is at least younger, cheaper ($5.1 million vs. $7.8 million) and has very similar offensive output.
Teemu of Broad Street Hockey reported via twitter, "Niko Hovinen recovering well after hip surgery. Likely starts skating this week." Expect to hear a lot about Hovinen training in Philadelphia this summer, not unlike Sergei Bobrovsky two years ago.
Kyle Scott of Crossing Broad pointed out today that Bobby Clarke's daughter, Jakki, has a book of personal stories and anecdotes from various Philadelphia Flyers coming out on November 1. "Players from all eras are represented–including Billy Barber, Bernie Parent, Mark Howe, Keith Primeau, and more- sharing never-before-told stories about learning to skate, playing pranks in the locker room, enjoying the fruits of victory, and overcoming crushing defeat."
File this under "Dear Lord, NO": Rob Zombie is going to make a movie about the Broad Street Bullies.  "Zombie got the rights to the team's story and has the full support of the Flyers organization. He likened the tone of the tale to Rocky meets Boogie Nights on ice. 'Each character involved is more outrageous than the next,' Zombie said. 'The backdrop of the turbulent year of 1974 is perfect for this 'stranger than fiction' sports tale.' "
Finally, Nashville Predator Martin Erat discussed fellow countryman Ilya Bryzgalov in an interview with Sports.ru for some reason. He, uh, didn't have very nice things to say (via Google Translate):
Well, that Bryzgalov?

All know it, right? He still thinks about the universe.

You never think about it not?

No. Not me.

That is, for you it would be difficult if the team would play such a goalie like Bryzgalov?

Oh, yes. It would be very hard for me. It is different.

You can not believe the goalkeeper, who loves to talk?

I do not know. I've never played with him, so I can not say anything bad about him. But it's very hard when you have a team player in the head which is something completely different. And he is your goalie. He is obliged to make good saves, bad. And then – you come to the game and have no idea that your goalie will make today. I would prefer to play with a goalkeeper who thinks, how to stop the puck, and not thinking about the universe.
For the latest Flyers news and updates, you can follow me on twitter (@JoshJanet).