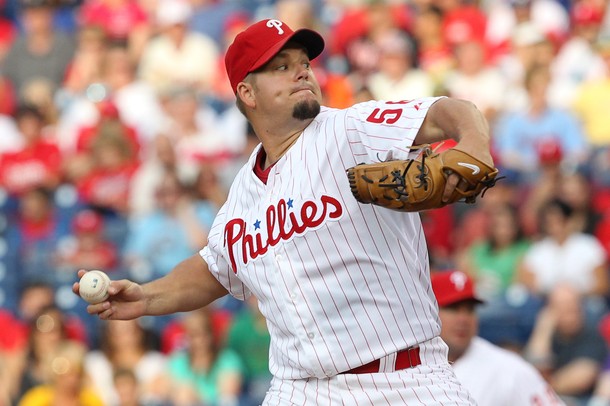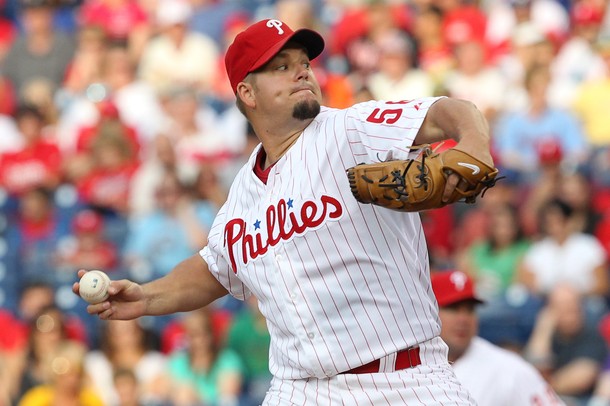 The Phillies won the first of a four-game series against the Pirates, taking down Pittsburgh 8-3. The Phils jumped out to a four-run lead after the first inning, and never looked back. The win, coupled with the Nationals' loss to Colorado, moves to the Phillies to eight games back in the division.
Joe Blanton won his eighth game of the year, allowing just two earned runs over seven innings. It was the veteran's second quality outing in his last three starts. He lowered his ERA to 4.87.
Blanton was solid from start to finish. He was rarely in any jams, and his biggest blemish was the solo home run he allowed to Jose Tabata in the third inning.
The offense put together a great first inning, complete with plenty of timely hitting to get out to an early lead. Jimmy Rollins lead off the inning with a double, and the Phillies came up with four straight RBI singles from Hunter Pence  (a rare hit with a runner in scoring position for the former Astro), Carlos Ruiz, Shane Victorino, and Placido Polanco.
Rollins also hit a two-run shot later in the game.The shortstop has been playing much better since May 28th, batting .345 with 10 doubles, two triples, seven homers, and 18 RBIs in that stretch.
Carlos Ruiz finished the game with three hits, scored three runs, and stole a base. Does anyone on this team deserve to be on the All-Star team more than Chooch? Its incredible that he's managed to maintain a batting average over .350 this late in the season.
Mike Fontenot got the start at second base, and went 2-4 and scored a run. The veteran has hit.345 in limited playing time, but isn't a strong defensive option. With Chase Utley's return set to take place on Wednesday, either Fontenot or Michael Martinez will be sent down to the minor leagues. Will the Phillies keep Fontenot for his offense, or Martinez for his defense?
Jake Diekman and Chad Qualls each threw a scoreless inning in relief of Blanton.
Qualls hasn't allowed a run in his last nine appearances.